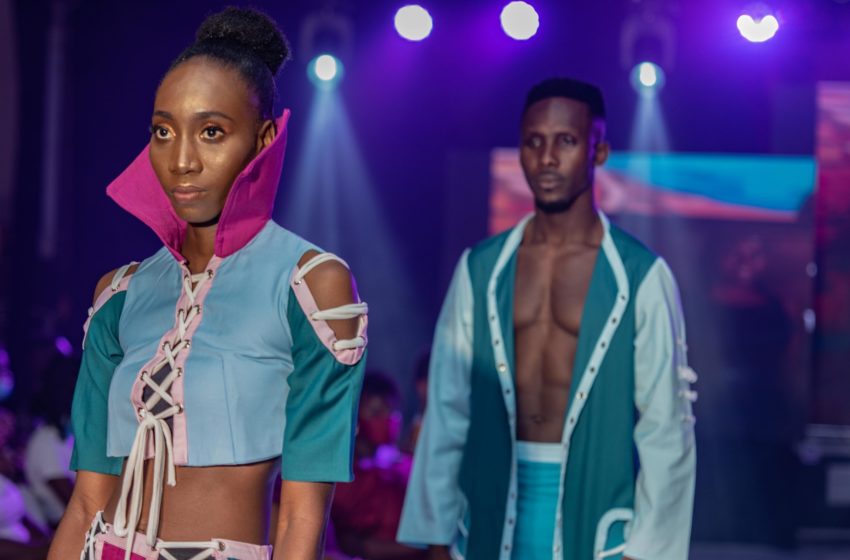 Graduating Students Of The Bluecrest School Of Fashion & Design Hold Mind-Blowing Fashion Show, Apasoɔ Kasa '21
The final year graduate fashion shows of the BlueCrest School of Fashion & Design, Apasoɔ Kasa, have always been a sight to behold. Held at the Aviation Social Center – with Covid-19 Protocols strictly observed- the graduating students worked on the theme "Youthful Exuberance, The African Expression". The evening saw designs created by the vibrant students from the university's degree, diploma, and certificate graduating class. Known for its creative curriculum and artistic nature, the School of Fashion & Design Graduate Showcase provided the perfect opportunity to appreciate the works of its students.
Present at the event were dignitaries from all sectors including JOT Agyemang, Kofi Oyekere Darko(KOD), Elsa Majimbo, Adwoa Loud, and Lily Mohammed. Their keen attention to the activities on the runway showed their delight to see such creativity on display. We were also privileged to have the First-ever Verna Mr. and Miss Autism Ghana, Nana Sakyi-Addo Dankwah, and Yacoba Tete Marmon, respectively, grace our runway.
The quality of the collections was a testament to the talent of the students and the fact that they can hold their own on the world stage. The designs reflected inspiration of culture, ingenuity, and African roots.
READ ALSO: Shatta Wale Was An Underground Artiste When I Started Out In The Industry – Sadiq Abu Claps Back After A Fan Tagged Him As A Fresher
This graduation showcase seeks to empower students who are crafting their unique ideas, walking in their own footsteps, and having the confidence to follow their dreams of entrepreneurship in the world of fashion.
With 60 students partaking in the show, BlueCrest's SFD Fashion Show has been lauded by the student designers who described it as an amazing platform for them to display their unique artistic talents.
Ms. Elsie Osei, Lecturer, and Head of the Student Success Office shared her sentiments about the show. "We started this journey to plan the show about a year ago and today we are excited to see it come to pass and be a success. I am exceptionally happy to see the smiles on my students' faces as this begins their journey to greater things in the fashion industry.
I am proud of their accomplishments and their dedication to the craft. It will not come on a silver platter but I know with the zeal and hard work they portray; they will go places.
This year's event was great, next year is going to be greater and better. I want to thank my team for their help throughout this process. Special mention goes to Beatrice Addy. We meant to portray African culture and I believe we achieved it."
Miss Reinner Okai, a graduate who created an outfit using symmetry, expressed her gratitude to the entire management of the institution for the opportunity.
READ ALSO: I Don't Know If I Will Make It To Heaven – KiDi
"I want to thank my lecturers, management, and everybody at the school who played an important role in shaping my fashion ability. It has not been easy but I am really happy with the knowledge I have gained, and I'm ecstatic this show gave me the platform to exhibit all I have learned", she said.
The show is an extension of the university's continued commitment to churning out the very best fashion designers and creatives of the next renaissance.
Rector, Dr. Anand Agrawal emphasized this in a statement made during the evening.
"SFD Fashion show organized by graduating students is evidence of learning and skills developed by our students. We can notice that our students are graduating as professionals with practical skills and are geared up to be successful in their careers.
We congratulate all our budding designers, stylists, fashionistas who have successfully transformed themselves with the learning from our expert faculty members and the support of our staff members. We also congratulate all parents and families of our graduates."
It is safe to conclude that the SFD Fashion Show was both impactful and entertaining, and the creativity witnessed is the head-turning glimpse needed to shine the spotlight on Ghana's newest crop of Fashion maestros and creative gurus. We wish all our graduating students the very best as they embark on this journey in the world of fashion and design.
For more information about BlueCrest University College, please visit www.bluecrest.edu.gh.