After receiving severe criticism for denying Diana Asamoah access to her Facebook page, Emmanuel Anane Frimpong, the CEO of Frimprince Music Productions, has rescinded his decision.
The music producer told Kwasi Aboagye in an interview on Peace FM that he has softened his position on the matter, at the behest of some respectable people in the industry.
READ ALSO: 'Get Out' – Big Akwes Charges On Arnold Asamoah-Baidoo For Allegedly Insulting Him As They Cl@sh On UTV
According to him, he will now let the gospel musician have access to her Facebook, YouTube, and Instagram accounts.
"A lot of high-profile people have spoken to me. I know even your panelists will say I should consider my stance on that. Due to the advice I've had on that, I will give her access to the Facebook page," he said.
Asked if there were other social media accounts he has seized from Diana, he answered in the affirmative but promised to let her have access to the other platforms, too.
"I also have access to her website, YouTube, and Instagram pages. But I'll give her access to all of them," he added.
READ ALSO: Prophet Kumchacha Nearly Be@ts Arnold On Live TV For Saying He Cannot Become President Of Ghana (+Video)
This comes after Anane Frimpong announced that he had parted ways with Diana Asamoah due to some "breaches" in their contract.
As part of the terms of the termination of the contract, the producer said he would deny Diana access to her Facebook page as well as have full rights to all her songs.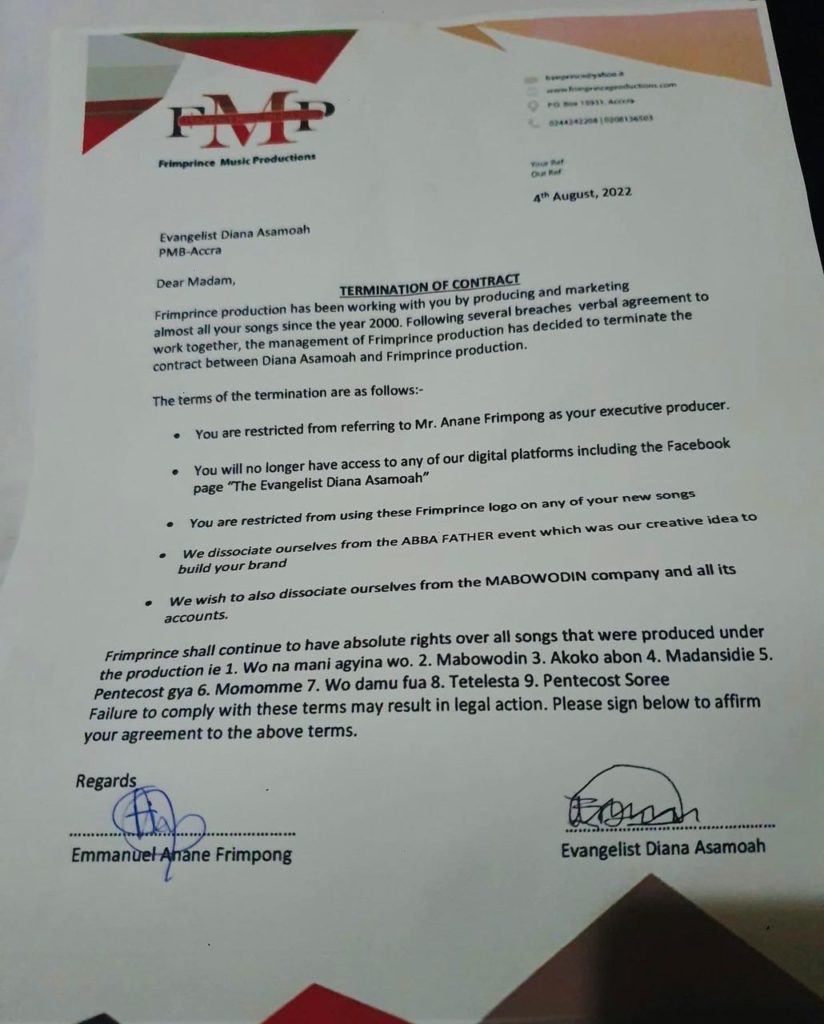 However, he also told Kwasi Aboagye that he erred by claiming absolute ownership of all the songs in the termination letter. He admitted that Diana and the composer of the songs would also have rights to the songs.
The two worked together for 22 years and produced songs such as 'Mabo Wo Din', 'Akoko Abon', 'M'adansidie', 'Pentecost Gya', among others.