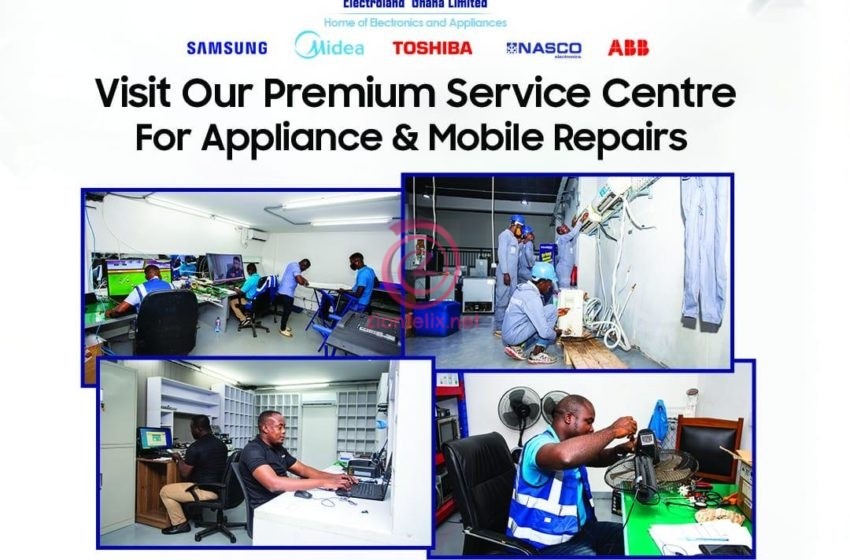 Electroland Ghana Limited Unveils A State-Of-The-Art Samsung Service Centre In Accra
Electroland Ghana Limited (EGL), key distributors of global electronics and mobile phones brand SAMSUNG have opened a State-of-the-Art SAMSUNG SERVICE CENTRE in Accra, at their Spintex Premium branch on the Spintex Road near Coca-Cola roundabout.
The Channel Manager, Ahmad Taan, noted, this is in line with EGL's effort to create a welcoming environment for all after sales related issues. "Our long-term plan is to get this type of facility across Ghana so that we can our customers will have that holistic experience of buying from us."
The Marketing Manager, Adiza Ibrahim Sadiq urged customers to feel free and walk in for repairs at a massive discount on their faulty SAMSUNG mobile phones and electronics. We have also launched the "Explore greatness with Samsung" promotion where customers who buy from any of our showroom or authorized Samsung showrooms across Ghana will get massive discounts and free Samsung souvenirs on selected items.
READ ALSO: If Care Is Not Taken, Sarkodie Will Lose His Crown – Entertainment Pundit
This promotion will run till the end of the Olympics games in all our showrooms and authorized dealer stores across Ghana."
Follow our official pages @electrolandgh on social media or call/ WhatsApp 0548768332/ 0243802845 for further enquires. Yu can also go to our website www.electrolandgh.com
ELECTROLAND GHANA LIMITED is the major distributor of Samsung electronics in Ghana since 2006, also the distributors of Midea, TOSHIBA, ABB electricals and brand owners of NASCO.
ELECTROLAND GHANA LIMITED…Home of Electronics and Appliances…