Award-winning Ghanaian beatmaker and record producer, Hammer of The Last 2 fame has revealed in a Facebook post that he has advised Kwame Yogot to put an immediate end to his 'nonfa' raps and focus on singing instead.
According to Hammer in his writeup, Kwame Yogot sent him a song to review and he was surprised about the singing abilities of the rapper.
READ ALSO: Delay React In Shock Following The Decision Of Abeiku Santana To Block Her On Social Media
He was so wowed by the impeccable voice of the rapper that he advised him to completely ditch rapping and channel all his energy and resources into singing.
As suggested by Hammer, Kwame Yogot's 'nonfa' raps normally water down the quality of his songs which is not encouraging and hence must not be tolerated.
Hammer wrote;
When rapper Kwame Yogot sent me this song a few weeks ago to review, I was so surprised to find out the entire chorus was sung by him, including the backing vocals and all.
"I immediately asked him to get rid of all the frivolous rap that so often waters down his songs and replace it with singing verses instead,
"Cos honestly the rap took away from the sincerity of the song and its conviction. I'm so glad he listened,"
"Never too late to rediscover yourself. KWAME YOGOT is officially a singer henceforth ❤️"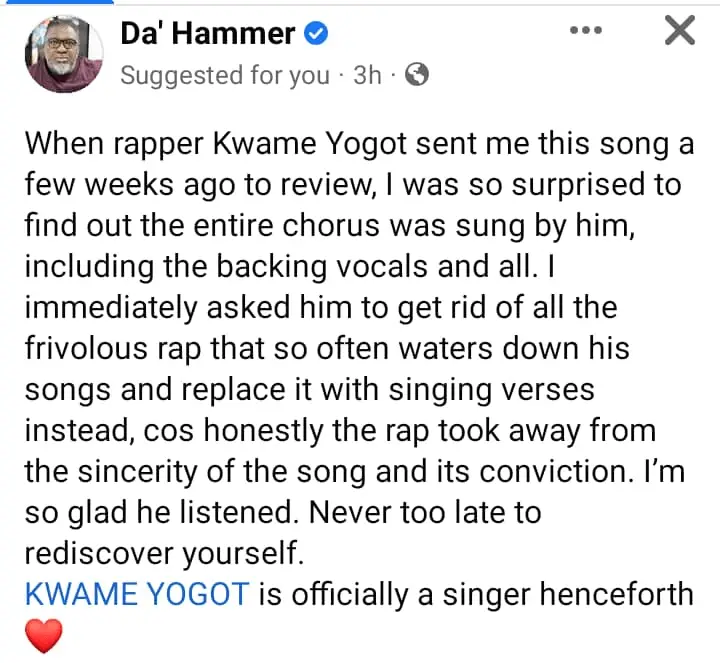 A lot of social media users are not pleased with Hammer's advice to Kwame Yogot to stop rapping because evidently, all the hardcore rappers are now hunting into singers.
Aside from Sarkodie, Manifest and to mention a few, it's hard to point a finger at any upcoming rapper who's marvelously doing well in the music industry.
READ ALSO: "You Are Doing Way Too Much, Stop It" – Arnold Asamoah-Baidoo Replies Blakk Rasta On His Criticisms Targeted At Sarkodie