Ghanaian actor, businessman, and politician, John Dumelo, has taken to his Twitter page to plead with Nana Addo to cancel the forthcoming 6th March celebration.
As proposed by the NDC aspiring MP, the country is currently in a financial mess hence the allocation of huge sums of money for the 6th March celebration seems like a misplaced priority.
Taken to his official Twitter page to beg the president to give him a listening ear, John Dumelo tweeted;
"Greetings @NAkufoAddo, respectfully we are in hard times, can you please cancel all state, regional and district Independence Day celebrations? You can do your usual 'fellow Ghanaians' broadcast on tv. This will save us millions of cedis. Thanks so much",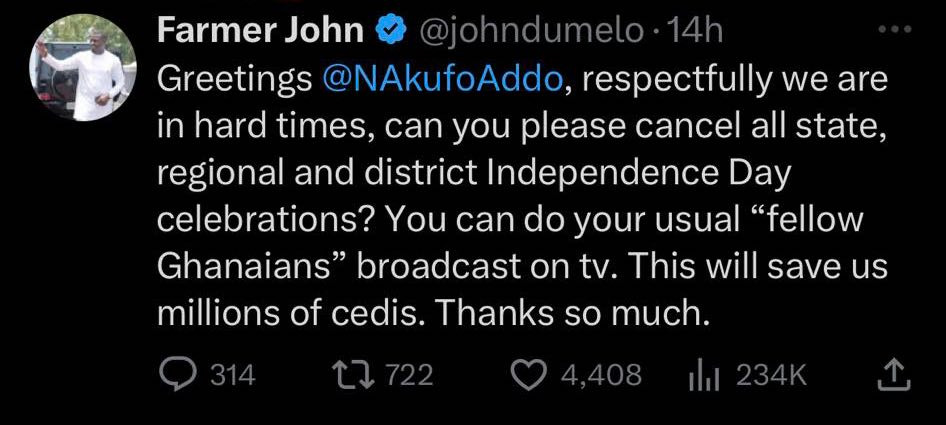 While some Ghanaians have thrown their support behind John Dumelo for the cancellation of the 6th March independence day celebrations; Others have also shared contrasting opinions.
Read some comments below after John Dumelo called on the president;
Dr King Winter said; "I totally agree, the funds can be directed towards the health sector and paying workers".
Big Joe stated; "After how many days of planning? He should now cancel? Oh John. The money budgeted has already left coffers. You should have said this last year December".
Dennis added; "You have a point. But don't forget that it creates a lot of employment. Don't base your argument on the money that the government uses to organize the program. But you have to also think about the pure water seller and fanice yoghurt seller among others".
Agyengo wrote; "I now agree with Mensa when he says people like you if given the chance to lead us, we are set for doom. Independence Day goes beyond the president's speech, it's an opportunity for Volta to exhibit their culture, market will obviously boost during this period and the people of Volta will benefit".
Ing. Minks also added; "We are in hard times therefore we should as well not conduct the 2024 elections. We should appoint some competent people to govern us".
Mr Incredible commented; "How do you want the children also coming understand our culture and way of living in Ghana. We are in hard times we know but cancelling the Independence day adds or deduct nothing and absolutely nothing".
Ghana's 66th Independence Day celebration will commence on Monday, March 6, 2023.
The celebration which would be under the theme: "Our Unity; Our Strength; Our Purpose", would be honoured by thousands from across the country and the world.
The day is scheduled to be marked with national and regional activities including the main ceremony which will be held in the Volta Regional capital of Ho.