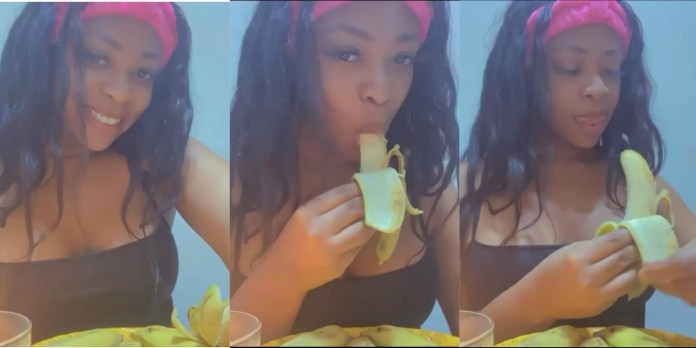 Michy Storms Social Media With A Video That Has Her $uck!ng Different Sizes Of Men 'Sticks' As She Reveals Her Type
Shatta Wale's ex-lover and baby mama, Michelle Diamond, popularly known as Michy has got her fans on IG going wild and gaga after she dropped a rather 18+ rated video on her page earlier today.
In the video in question, Michy decided to play the bad girl and tell her fans about the different types of men 'sticks' available by sarcastically using the different types of bananas.
READ ALSO: GhOne TV 'Sacks' Bukom Banku In A Very Modest Way
The mother of one, also went ahead to tell her followers and fans her favorite size with her facial expressions in the video that is getting a lot of reactions on her page.
In the video seen by zionfelix.net, Michy demonstrated that bigger banana dripping with milk are her favorites while happily sucking it.
She also hilariously added that the ones which are like cotton buds, thus the smallest available are what she uses to clean her ears, to suggest that she has no time for such men.
Check out Michy's controversial video below…