Queen eShun Releases Visuals For 'Handcuff' – Watch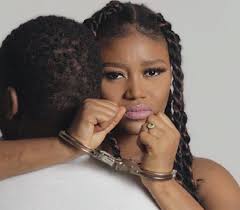 Ghanaian songstress, Queen Eshun has release visuals her song 'Handcuff'.
She sang about the abuse that women receive from their partners in marriages and relationships.
eShun bemoaned the experience of a bad marriage in this piece.
READ ALSO: Nanaba SKB Features Strongman On 'Tycoon' – Watch Visuals
Realizing her mistake, the talented singer vowed not to repeat it in her next life.
Proving her versatility, eShun also rapped to give this song an amazing feel.
Watch the video below.