Fast-rising Ghanaian music group. West Side Gang, a group made up of three individuals consisting of Captn blaces, Minizta, and Bentil Trigger is claiming the title of being the best music group in the Western Region of Ghana currently.
The group made this claim via a Facebook post they shared as they released their brand new song that is titled 'Wedding Day'.
READ ALSO: The Reasons For The Alleged Break Up Between Shatta Wale And New Lover Elfreda Surface Online
According to them, when it comes to music groups in the Western Region of Ghana, they are as big as the multiple award-winning music group of twin brothers. P-Square in Nigeria – a group that is known for releasing a lot of bangers in the last two decades.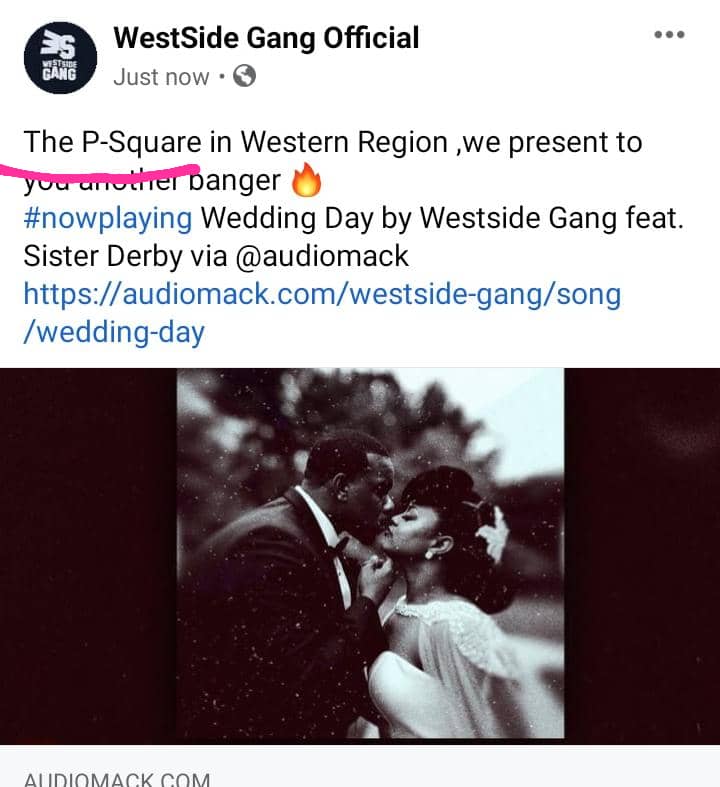 West Side Gang in the last few years has produced hit songs like 'Too Late' which features Pappy Kojo, 'Jealousy' which features Mr. Drew, and their latest single dubbed 'Wedding Day' which features the ever beautiful, Sister Derby.
They are officially signed onto the label TC Clique Music and based on the number of years they have been around and on account of their various releases, many folks online also believe that their claim might be partly true.
Check out their new song below and decide if they are indeed the P-Square of the Western Region