American adult movie star, King Nasir, has publicly offered to helo Shugatiti reach org@sm after the socialite complained during an interview with Zionfelix that she has never climaxed despite having s3x with different men.
Speaking in the interview, Shugatiti claimed that merely has s3x because of her partners and not for the sake of her personal pleasure.
READ ALSO: Until Brother Sammy Call Me His Father And Apologizes, He Will Never Be On The Same Stage With Me – Ernest Opoku
Shugatiti further stated that even though none of the guys has been able to make her reach an orgasm, their energy during sexual intercourse is sufficient for her to keep up her robust libido.
She said;
You can't satisfy me, I have never cum in my life, I don't get orgasm. I asked my doctor, and he said it was normal because not all women will get orgasm.
"So for me, I don't get orgasm; so pleasing me is out, you just have to match up with the energy till we get tired.
"I enjoy having sex; I get so wet; I enjoy the penetration and how things are moving in and out. I also enjoy long hours, like the whole day. Me, I don't get tired.
"The honest truth is that all the people I have made out with match up with my energy,"
The celebrity of the adult industry has responded to Shuggatiti's admission by inviting her to meet him in bed in order for her to experience org@sm for the first time.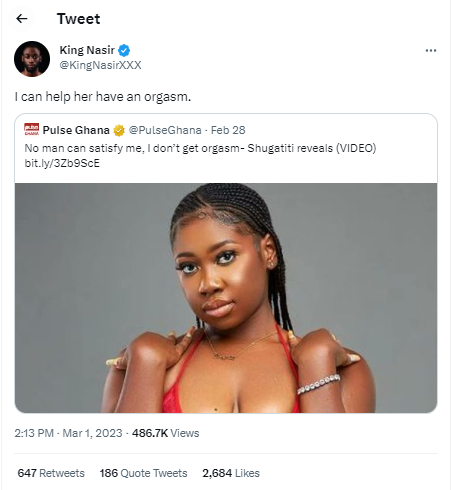 King Nasir thinks he has what it takes to assist Shugatiti in experiencing org@sm and to make a powerful statement about his ability as a well-known adult movie star.
Many people are currently anticipating whether their s3xual bout will come off as anticipated.
READ ALSO: MzGee Reportedly Quits Her Job At 3Music TV Barely A Year After She Joined