Funny Face Finally Puts Back The Photos Of Ella And Bella On His Wall After Welcoming New Baby (Video)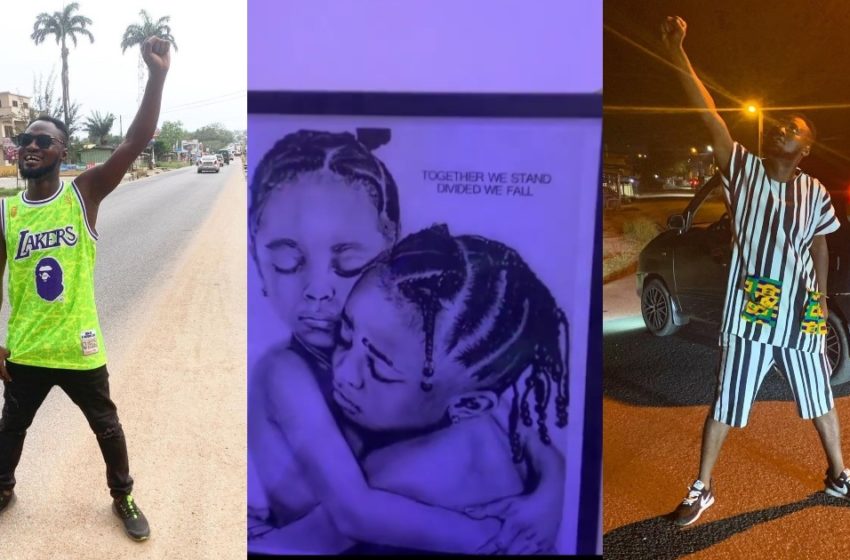 Comedian Benson Nana Yaw Oduro known in the world of entertainment as Funny Face, has put back up the photos of his twin daughters on his wall after removing them earlier.
In a video sighted by Zionfelix.net, the photos of the famous Ella and Bella had been put back on the walls of the comedian in his living room.
READ ALSO: I Wanted To Summon Funny Face Before The Palace But I Realized He Needs Psychiatric Care – Vanessa's Father Angrily Speaks In Video
The photos of the twins were earlier taken down by the comedian himself when he made assertions that he was trying to forget about his daughters.
In an earlier video, the Kasoa Trotro actor was heard saying he had to take down the photos of Ella and Bella because looking at them brought him pain.
WATCH VIDEO BELOW:
This pain has however disappeared and the actor has reinstated his princesses back in his home.
Reports were rife yesterday that the comedian and estranged baby mama, Vanessa, had welcomed a new baby girl.
READ ALSO: Akrobeto Is Trending In Spain – Watch This Funny Video
This was confirmed by Jah Wisdom, Vanessa's dad in a phone conversation with Ola Michaels and Abena Moet.