Hammer Heaps Praise On John Dumelo Over His Many Humanitarian Efforts Following Shiashie Fire Explosion ( See All He Said)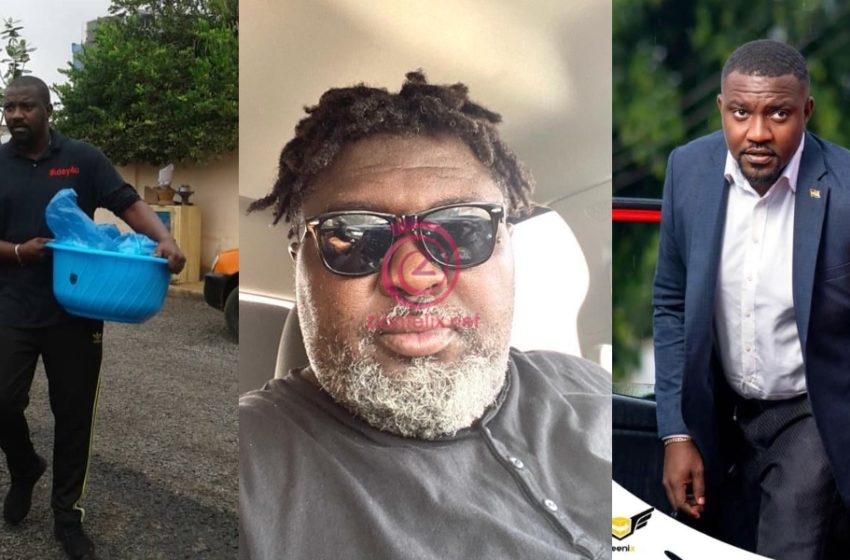 Experienced music and record producer, Edward Nana Poku Osei, famed as Da'Hammer, has showered praise on actor-turned-politician John Mahama.
According to Hammer, John Dumelo's humanitarian deeds are worth emulating and that he was not doing them for political reasons.
READ ALSO: Actress Maame Serwaa Celebrates Her 20th Birthday Today With 'Too Risky' Photo; Celebs React (See)
Hammer indicated that his praise was not a political one and that he had known Dumelo for a while therefore, he understood what he was saying.
The Last Two boss added that he was of a strong conviction that John clearly had the needs of the people at heart.
SEE POST BELOW:
Hammer took to Facebook to share a photo of Dumelo sharing food to some residents of Shiashie following a fire explsion on Friday, August 14, 2020.
His caption read: "Chale say wha u want about Him but trust me John is a serious hands-on guy… politics or not, no one can fake for this long… even big brother house-mates can't keep up the faking after a week Chale… since before the farming, to the public service ambitions, Im telling u, what we're seeing is the undiluted real John, not a character frontin for the polls massa. The guy just puts in work and I salute this man regardless of party affiliation. Big up my guy".
On August 14, 2020 at around 11pm, there was an explosion that rocked some areas between East Legon and Shiashie.
READ ALSO: I Have Not Given Birth Yet – Kuami Eugene Clears The Air On Birth Reports (Watch Video)
According to reports, when the fires started raging, John Dumelo arrived on the scene and started making frantic calls to the fire service to rush to the scene to douse the fire.