Heartbreaking Video Of How Many Police Officers Manhandled Funny Face Before His Arrest Surfaces Online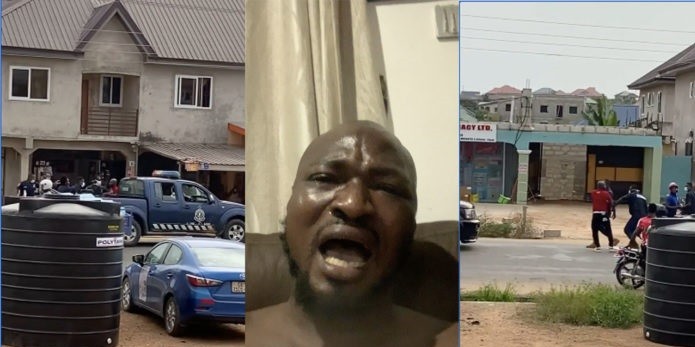 Earlier this morning, award-winning Ghanaian actor, Funny Face took to his Instagram page to weep and speak painfully about how some police officers allegedly manhandled him on the Kasoa Millennium streets before arresting him.
Funny Face in this video blasted these police officers and revealed he was beaten by the policemen who came in to arrest him with handcuffs for not doing anything wrong.
READ ALSO: Andy Dosty Sacks Okese 1 From His Studio, Jams To His "Yie Yie" Song Moments Later (Video)
Following his allegations, a new video showing how that he was actually treated badly by these police officers has finally surfaced on social media.
In the video available to zionfelix.net, the police officers who numbered more than three didn't take it easy with him as they dragged him like a dreaded criminal in the full glare of the general public.
At a point in the video, he even fell down but the police didn't have that patience to let him get up as they pulled him into their waiting blue and black pick up and whisked him away to the cells where he spent Monday night.
Watch the heartbreaking video below…