Ghanaian politician and farmer John Dumelo is set to honor his promise made in anticipation of the National Science and Maths Quiz (NSMQ23) grand finale.
Despite his fervent support for his alma mater, Achimota School, the school placed second behind Presec Legon, who secured victory in the intense academic competition with 40 points against Achimota's 28 points.
READ ALSO: Correct Yourself Before I Sue You – Mr. Eazi Tells Netizen Who Claims He Is Worth Just $5 Million
A week before the highly anticipated NSMQ23 final, Dumelo pledged via a tweet to walk barefoot backwards from the University of Ghana main gate to Presec's main gate if Achimota School failed to emerge victorious.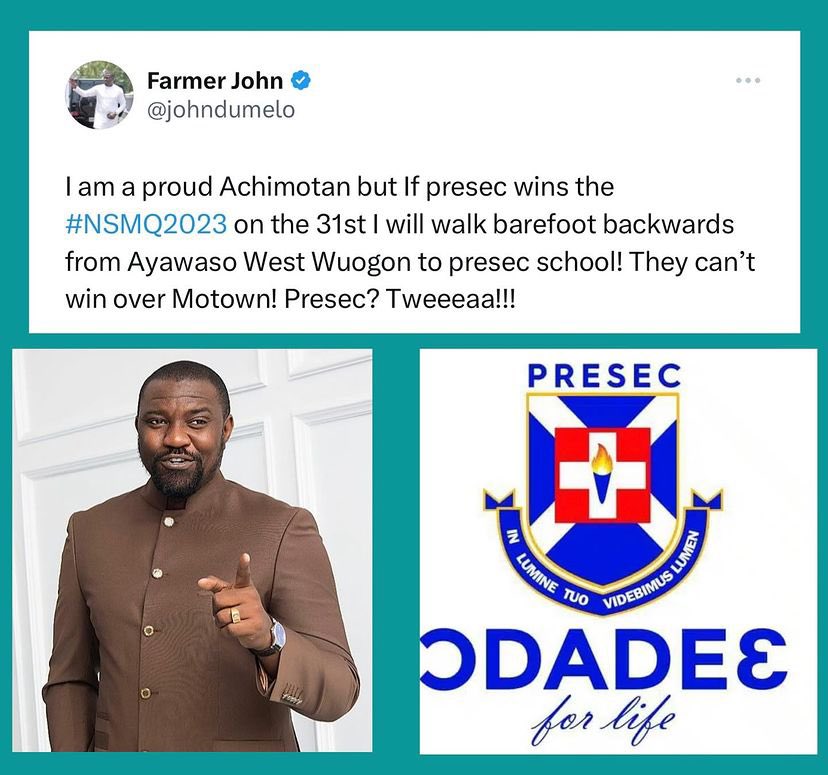 His unwavering commitment and sportsmanship in fulfilling this promise display his respect for the academic prowess of both Presec Legon and Opoku Ware School, while also demonstrating his pride in his beloved Achimota School. The walk is scheduled for October 31, starting at 4 PM, where Dumelo will embark on this unique gesture of acknowledgement and congratulations to the triumphant Presec Legon for their NSMQ23 victory.