Kankpe Records, managers of award-winning musician Nii Addo Quaynor famed as Tinny, have reacted to reports going round in media circles that their artiste has tested positive for the novel coronavirus.
According to Kankpe Records, the news going round about their artiste was untrue and asked the public to treat the news with the contempt it deserved.
READ ALSO: Asamoah Gyan Reacts To Trolls After Ghanaians Remember His WC Penalty Miss Against Uruguay 10 Years Ago
"As management of Tinny, we debunk all rumors surrounding this and assure fans, close relations and the general public that Tinny is healthy and has not in anyway tested positive for Corona Virus," portions of the press release read.
The letter sighted by Zionfelix.net also went on to reveal that the said false report gained media attention after a conversation meant to be a joke ensued between Tinny and Nii Funny.
Tinny's managers also asked that people stopped circulating the false report since it was clearly fake news.
SEE LETTER BELOW: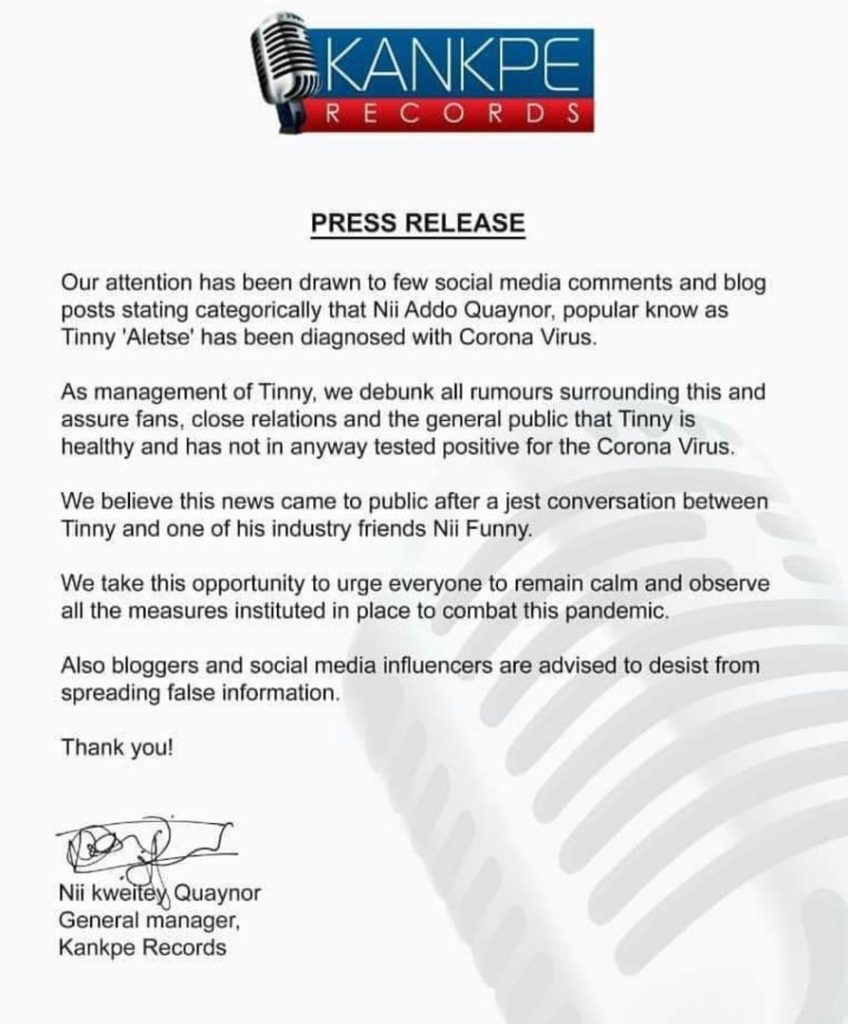 Adding up to their letter, they admonished all and sundry to stay safe, keep calm and observe all the social distancing protocols and COVID-19 protocols instituted by the government.
READ ALSO: Marriage Does Not Guarantee A Place In Heaven; I Am Not Yet Ready For It – Tracey Boakye Gives Solid Reasons (Watch Video)
The release was signed by Nii Kweitey Quaynor who happens to be the general manager of Kankpe Records.