Queen Haizel Angers ZionFelix During Live Interview, Ends Interview Abruptly – Watch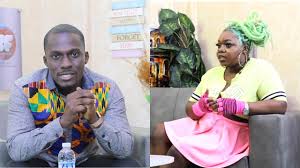 It is unusual to see ZionFelix ending interviews before exhausting all the questions he intends to ask any of his interviewees.
However, this top score was broken after Ghanaian female singer, Queen Haizel appeared on the 'Uncut' Show with ZionFelix.
After news about her death went viral some months ago, the songstress resurfaced—and made a flimsy excuse that she travelled hence her silence on the issue.
READ ALSO: Midas Touch Never Booked A Show For Me, They Wanted Me To Even Postpone A Show I Was Using My Own Money To Finance – Disappointed Imrana Reveals
Though she hasn't accepted that her rumoured death report was a publicity stunt, her demeanour in this interview with ZionFelix was not the best.
She felt adamant to answer a couple of questions during the interview.
READ ALSO: Sarkodie Disrespected Stonebwoy – Aisha Modi Reveals
Repeatedly refusing to answer the questions, ZionFelix called it a day and ended the interview with Queen Haizel.
The renowned blogger and YouTuber was not happy about Haizel's action but it is interesting to know that while in anger, Zion still wore a smiling face—and ended the interview.
Watch the full interview video below.