See The Tall List Of Over 80 Individuals, Companies, And Brands That Showed Massive Love To #OurDay Boy, Oswald On His Special Day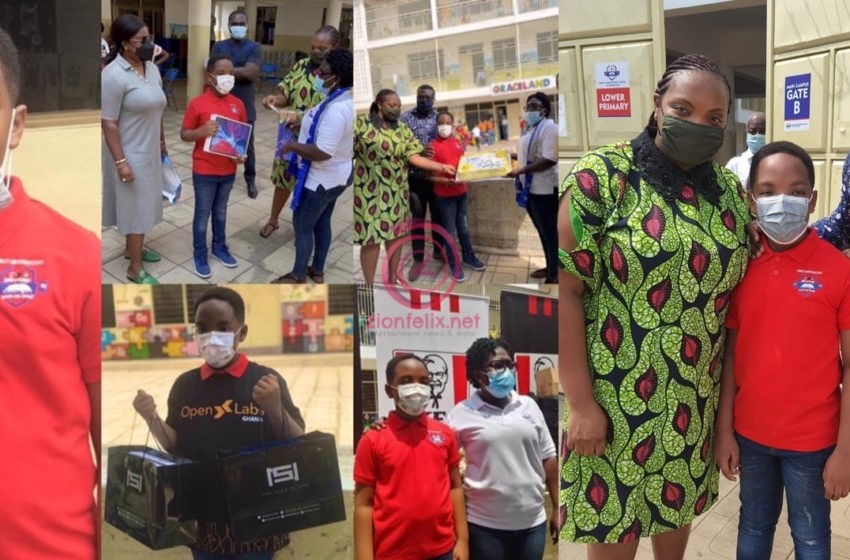 What was a little boy's wish for a memorable #Ourday in school turned out to be one of the most talked-about events in Ghana by the media.
Oswald and his school became the certain of attention yesterday, July 30, after his #Ourday wish list hit social media and went viral like some wildfire.
READ ALSO: Lesbobo Alert! Efia Odo Seen K!ssing Her 'Partner' W!ldly As They Share Smoke In Public – Watch Video
A lot of companies, individuals and notable brands in Ghana thronged the school to give Oswald, his other mates, the school Christ Ambassadors School, and his favorite madam, Mrs. Appiah.
Zionfelix.net has put together a tall list of over 80 companies, brands, and individuals who reached out to Oswald to make his Our Day memorable.
Below Is The List
1. Dext Technology Limited
2. Voltic Mineral Water
3. Brainwek Education
4. Vodafone Ghana Limited
5. Presec Legon Alumni
6. MTN Ghana
7. Hollard Ghana
8. Professor Naana Jane Opoku Agyemang
9. SARF Cleaning Services
11. Azmera Restaurant
12. Smoochies Bakes
13. Best Grilled Chicken In Accra
14. YFM Ghana
15. DSTV Ghana
16. NSMQ Ghana
17. Dough Man Foods
18. Milrah Cooperation
19. Republic Securities Ghana Ltd
20. Loyalty Insurance Ghana
21. Caveman Watches
22. Turf Devices
23. Silverbird Ghana
24. Dreams Event Reality
25. Kwakaf International
26. Shalom Angels Montessori School
27. Belleza BC
28. Ally Pharmacy
29. Alpha & Omega Publications Ltd
30. OMO Ghana
31. Fiesta Condom GH
32. NEX Watches
33/34. Just click HERE for more and follow from below, LOL
35. Pepsodent Ghana
36. Prudential Bank Ghana Ltd
37. Corner Kutz GH
38. Moove Africa
39. Bread Wiches
40. eCampus
41. Yellow Card App
42. Origin Chemist
43. Style up Jerseys
44. Petal Garden
45. Databank Group
46. Pinkberry Ghana
47. Geisha Ghana
48. Koppan Hospitality
49. Sneaker Space GH
50. Infinity Scrubs & co
51. Gifty Vouchers
52. Access Bank Ghana Limited
53. HD Plus Ghana
54. DevDex Software LLC
55. Popsicles Gh
56. Candy Cupid
57. LifeBuoy Ghana
58. Stanbic Investment Management Services
59. Trust Hospital
60. Ashesi University
61. Pizza Inn Ghana
62. Speech Forces
63. Frytol Oil
64. Fragrance Gh
65. Papas Pizza GH
66. Myst Water
67. FDA Ghana
68. DNA Test Clinic
69. Dano Milk
70. Career Wheel
71. Ghana Law Hub
72. Bel Beverages
73. Ginger Health Care
74. AirtelTigo Ghana
75. Afrilogic Solutions
76. Kids Essentials Gh
77. Jessy Express
78. NANA RICE
79. Samsung Ghana
80. Puma Energy
81. Papaye Fast Food
82. Sneaker Nyame
83. Asante Kotoko SC