Ghana's bronze medalist at the 2020 Tokyo Olympic games Samuel Takyi alias Ring Warrior (3-0) sounds powerful words of caution with a strong impression to his opponent Victor Kuwornu (11- 1, 8KOs) as they both seal 'winner takes all' deal to contest for the National Lightweight championship title during a press launch at Mascot Hotel a few weeks ago.
This boxing bout is scheduled to take place at the Bukom Boxing Arena on 30/12/2022 under the Bazooka Promotion and Management Syndicate (BPMS). Side attractions include surprise performance from some top rated musicians in Ghana. Tickets are selling GHc30 for regular stand, GHc50 for VIP, GHc100 for VVIP and GHc500 for ringside
Both boxers are in their best forms and unapologetically expressed their bragging rights without fear or holding back. During the launch, Takyi proclaimed he's currently "the best lightweight champion in Ghana". In response, Kuwornu said, "the ring will tell". Ghanaians and boxing lovers are about to witness the sweet science of boxing from these talented boxers.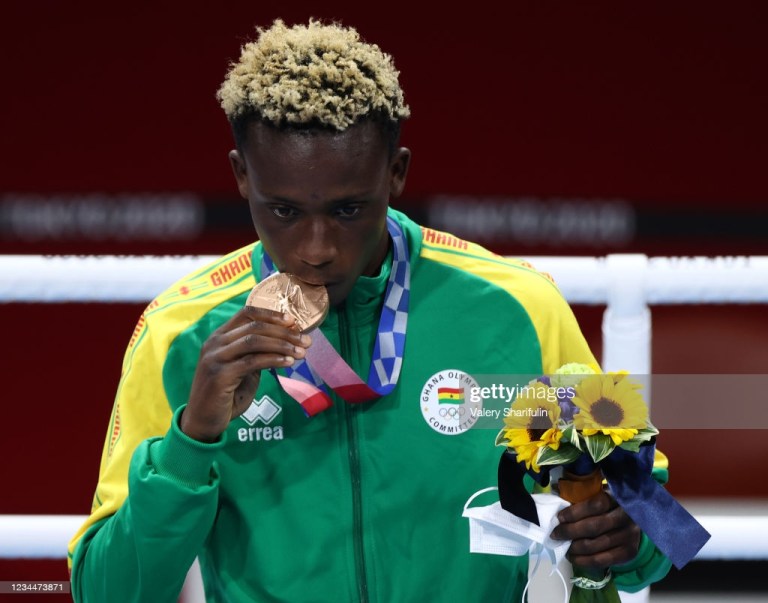 The head of the Bazooka Promotions communication team Mr Charles Jojo Ephson created an impression to the media Takyi is the first Olympic medalist to become a champion. He added that the legacy of former WBA welterweight champion and Olympian Ike Bazooka Quartey must be honoured by discovering young talents with the potential to become world champions. The comment invited a lot of opinions from patrons and the press, but they believe the end will justify the means based on Takyi's readiness, skills and tactics.
Bazooka Promotions and Management Syndicate is sponsored and supported by a group of companies including Jnab Studio, Dibella Entertainment, Trust Sports Emporium, Uncle T, and Special Ice.
Media partners: One Side Family TV, Musik Freaqs, BoxingGhana, GTV, Ghanaian Times, Graphic Sports, Dornu's Corner, Ultimate Sports, asaaseaban.com, World Star Media, African Sports Media Network, Ga Mashie Blogger, One Life Boxing, Happy Sports, Metro TV, Atinka Media, Modernghana.com and Sportsinghana.com.
Judging from their track records, whom do you think will win the lightweight title?
Story by: John Claude Tamakloe