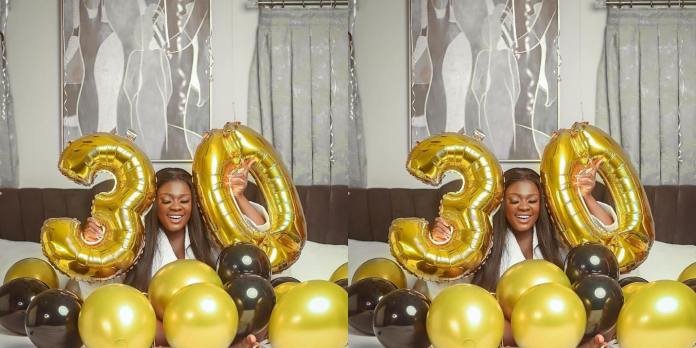 Tracey Boakye Vows Not To Beef Any Depressed Person Again From This Year Because Of These Reasons (Screenshot)
Actress and entrepreneur, Tracey Boakye has made a big vow today as she celebrates her 30th birthday in grand style.
Earlier this morning, she shared a beautiful photo on her Instagram page to wish herself the best of everything as she hits the 30 years mark.
READ ALSO: Checkout Exclusive Photos As Actress Tracey Boakye Celebrates Her 30th Birthday
Spotted sitting on her bed in a white rob and flagged by black and gold balloons, with the age 30 inscription in her hands, she added the caption: "Dear God, I thank you for My Life, thank you for how far you've brought me, thank you for giving me a strong heart to fight back thousands of people, when they all stood against me for NO REASON. I know you're not done with me yet, all I ask for is Long life, Good Health, and a STRONG HEART ❤️. HAPPY BIRTHDAY TO ME 🙏🙏🙏. THANK YOU JESUS 🙏. #traceyboakye@30 🎂🎉🍾 …"
READ ALSO: Check Out All The Exclusive Videos From Film Maker, Nana Kwasi Brown's Wedding Attended By Nana Ama Mcbrown, And Other Top Stars (Videos)
Not long ago, she shared another beautiful photo to wish herself again. This time, however, she made a big vow with the caption.
According to her, from this year, she wont beef or fight with anyone who is depressed and wants her attention because she is now 30 years of age and also she has two adorable kids to think of.
Her full caption reads: "I HAVE PROMISED MYSELF, that at age 30, with 2 beautiful kids, I WON'T RESPOND TO ANY DEPRESSED PEOPLE ON SOCIAL MEDIA AGAIN. And I'm still sticking to MY PROMISE. Happy birthday to me 🙏❤️🍾🎉🎈. #traceyboakye@30 …"
READ ALSO: Rev. Obofour's Wife, Bofowaa Shares Touching Unseen Video Of Her Third Pregnancy To Celebrate The Birthday Of Their Son, Junior
It is public knowledge that in 2020, she was engaged in heated confrontations with the likes of Mzbel, Kennedy Agyapong, Mona Gucci, and any other people who attacked her some how.