An Instagram post of Ghanaian actor cum film director, Eddie Nartey threatening his colleague actor Umar Krupp went viral some hours ago.
Eddie Nartey in his post blasted Umar Krupp for growing some wings and warned he would not take any foolishness when he crossed the line with him.
READ ALSO: VIDEO: I Own A Hotel And A Huge Pub With Swimming Pool, I'm Building More – Amakye Dede Lists His Properties
He wrote; '@umarkrupp I have had good friendship with you and we have done a lot of things together. One thing I will not tolerate is when you cross the line. Don't be fooled by what people are saying, I will F**k you up!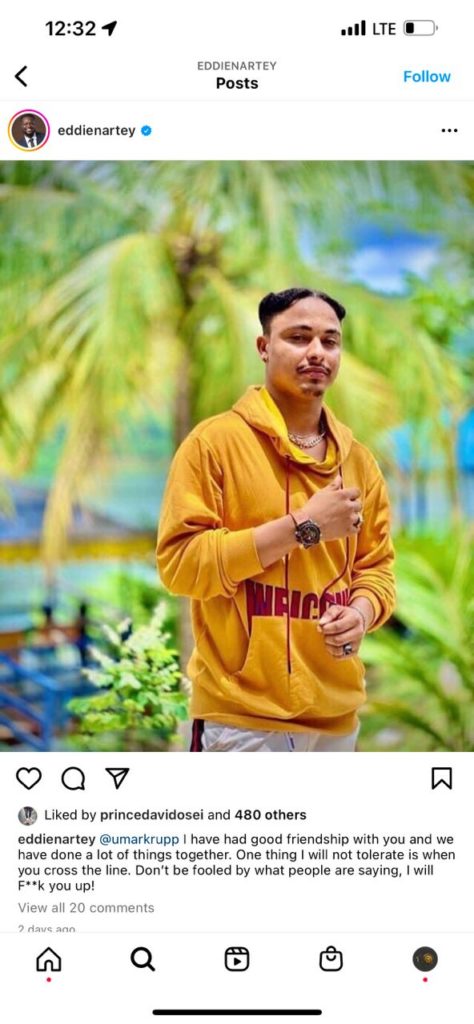 Many social media users after sighting the screenshot began to ask questions to understand what was really going on between the two.
READ ALSO: Don't Be Fooled Or Else I Will F**k You Up – Eddie Nartey Cautions Umar Krupp
As the questions continue to come in, a new video has surfaced on social and in this video, Eddie Nartey and Umar Krupp are seen engaging in a physical tussle following some sort of misunderstanding.
Currently, it is not clear what caused this whole beef. However, some people are already alleging that it is a stunt to promote a new project they are working on.
Watch the video below…