VIDEO: Stonebwoy Forgot His Script For Our Asaase Sound Clash And Began To Feel Emotional – Shatta Wale Does Efo Yawa On Live Radio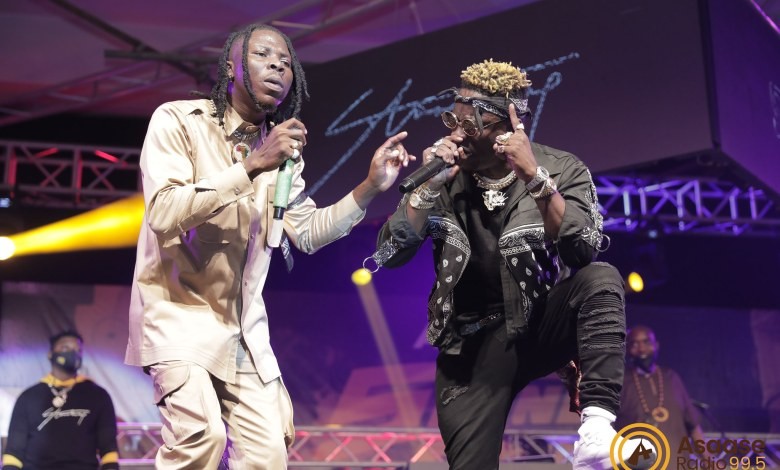 The recent soundclash organized by Asaase Radio between top Raggae/Dancehall musicians, Shatta Wale and Stonebwoy to crash covid-19 was interesting from the very beginning until certain remarks the former made about the Stonebwoy's legs got him a little emotional later.
After the clash, many of the people who watched it live and passed comments on social media felt that those comments from Wale were needless, especially when they have both smoked the peace pipe and are living peacefully now.
READ ALSO: Married Musician Whose Wife Nearly Beat The Hell Out Of Poloo Finally Speaks On The Whole Brouhaha (+Video)
Even though he came under some amounts of attacks, Shatta Wale had not made any official comment on the issue.
However, during an interview on Zylofon FM earlier today as he embarks on a radio tour to promote his Kumerica project, Shatta Wale revealed that all the things he said against Stonebwoy that day were things the Bhim Nation president told him to tell him.
READ ALSO: I'm Not Close With MzBel Anymore, She Doesn't Reply My Message – iOna Tells Everything That Happened
According to him, they had a script they were going to work with because this was supposed to be about peace but in the end, it seems Stonebwoy forgot his script and decided to be emotional instead.
He further disclosed that when he made that comment about Stonebwoy's legs, the 'Ever Lasting' hitmaker was also expected to use his big mouth 'Gbee Naabu' as a reply jab but that never happened.
Watch the interview below for more