Watch The Beautiful Moment When Shatta Wale And Stonebwoy Meet Each Other In Town (+Video)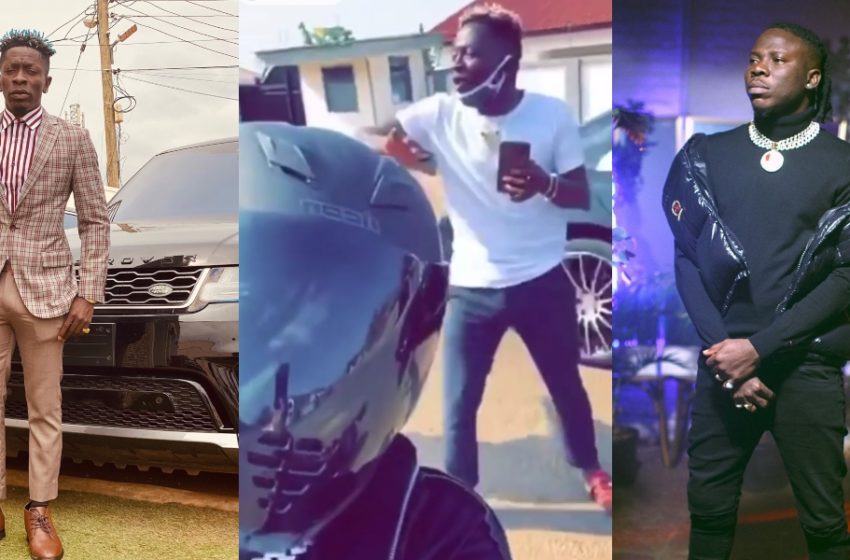 There was all joy laughter and praise when two of Ghana's dancehall kings, Shatta Wale and Stonebwoy bumped into each other randomly while on their way to town.
The video which was posted on the IG page of Zionfelix, had the two dancehall heavyweights singing the praise of each other with so much passion.
READ ALSO: Our Beef Is Not Over – Lil Win Says In New Video Over Fight With Funny Face On Live TV (Watch)
Shatta Wale appeared to be driving a Benz and got Stonebwoy praising him over the classy ride choice while Stonebwoy who had turned a biker, was on a monster motorbike.
Both musicians had their phones out as they captured the beautiful but rare moment for their fans and followers.
The video goes to attest to the fact that the two superstars have indeed put all their beef and misunderstanding behind them and are living like brothers.
WATCH VIDEO BELOW:
Shatta Wale sounded so excited to have met Stonebwoy and just could not keep calm as he was seen jumping from corner to corner to show the whole world how he is enjoying his friendship with Stonebwoy.
Stonebwoy who had his helmet on the whole time was also seen panning his camera around to show the streets they were on and also video all those around.
Some people in Stonebwoy's entourage were seen exchanging pleasantries with Shatta Wale and vice versa.
READ ALSO: Sankofa Yen Kyi! Shatta Wale And Efia Odo Quash Their Beef And Become Besties Again (+Photo)
Shatta Wale and Stonebwoy are household names and the duo can boast of thousands of followers and fans all over the country.