Rapper Kwaw Kese and Yaa Pono ignited a new beef somewhere last week after the former slammed the latter for dissing Sarkodie in a freestyle he shared on social media.
According to Kwaw Kese, Yaa Pono is only jealous of Sarkodie's achievements because they all started their music careers in the same period but clearly, one is miles ahead of the other.
READ ALSO: Ras Kuuku accuses Angel Town of blocking songs musicians send to Sarkodie from reaching him
Kwaw Kese quickly took to his Twitter timeline to land heavy jabs on Yaa Pono.
He tweeted;
If you diss someone who's ahead of you in everything, you're wasting your time. Use that energy to better yourself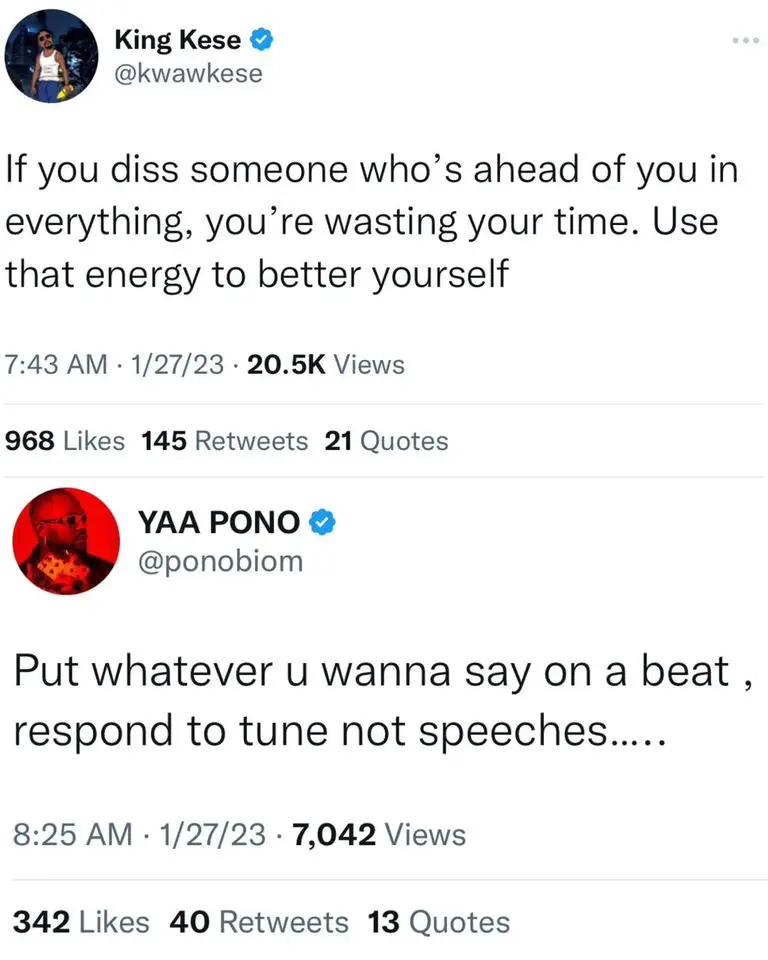 Kwaw Kese later replied to Kwaw Kese's jab and told him to shut up and not mingle with his beef with Sarkodie because he knows what he's doing and even Sarkodie himself int worried about the shits he threw at him in his freestyle.
Fast forward, Abodam has taken another deep swipe at Yaa Pono once again by posting his 2008 VGMA record on his social media pages.
According to Kwaw Kese, since Yaa Pono has not achieved a quarter of what he has done in the music industry he should 'shush' and learn from him because they are not on the same level.
Shady Kwaw Kese captioned his post targeted at ridiculing Yaa Pono as;
If you're not in these league, you no Dey my level
. I no go mind you sef
Below are some of the popular comments gathered under Kwaw Kese's post;
Lyrical Pito – Kwaw Kese what music did to u that's the same thing it's doing to Pono too.U guys are twins.U guys were once great.
Gh Amaru – Those insulting kwaw kese is the reason mahama said Ghanaians have a short memory
Kwaw was out of his league back then
The first to win 4awards a night in vgma history and u are comparing him to ponoPono be dope rapper but can't be compared to kwaw in terms of achievement in Ghana music
Nii Key – That's why those who are ahead of did not mind you too and see who is talking about pain and jealous! Were you not the same person who asked why shatta wale got on billboard and he is talking about pain and jealous hmmm
Mempemehoasem Kwaku Afriyie – Just do it on beat so we see who be the gee, all this no be necessary go say all this on beat and let we de listeners judge
Real Rasty – Yaa pono is known everywhere in Ghana so you can't sabotage his image and he's top raper in Ghana
READ ALSO: "I never imagined that rich Daddy Lumba will dupe a broke guy like me" – Great Ampong emotionally reveals and f!res again