Ghanaian freestyle rapper and music writer professionally known as Yaa P0no has ignited a new beef with the most successful African rapper of all time, Sarkodie.
Just three days ago, Sarkodie released a spanking new single dubbed 'Land Lord'.
In the freestyle song, he threw some heavy punches at Nasty C and also crowned himself as the best ever to touch the microphone to do rap music in Ghana, Africa and beyond.
READ ALSO: Vawulence! Sarkodie Finally Replies Nasty C With A D!ss Track Titled 'Landlord' – Listen
Sarkodie took the opportunity to explain why he snubbed Nasty C sometime ago and also pooped on him for trying to rock shoulders with him.
He additionally dismissed the claims made by Nasty C that he refused to honour his feature because of how he treated him like a piece of trash when they met sometime ago.
Yaa P0no who has beefed with Sarkodie on countless occasions since their kasahara days has called out the Sarkcess boss for disgracing Ghanaians with his soft punches and wack lyrics.
According to Yaa P0no, prior to listening to the song for the first time, he was convinced that Sarkodie annihilated Nasty C because of the hype from tweeps on the microblogging platform.
But he got utterly disappointed after listening to the song.
He described Sarkodie's rap as amateur and bragged that he'll show Ghanaians real rap this year.
READ ALSO: 'Landlord' Sarkodie Discloses Why He Released His D!ss Song For Nasty C And Others On December 31 – Watch Video
Take a look at Yaa Pono's reaction to Sarkodie's 'Land Lord' song below.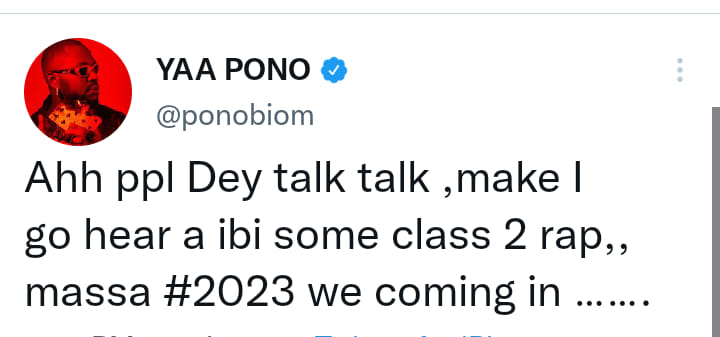 For those who do not recall what really transpired, back in November, Nasty C revealed during a freestyle on Metro FM's The Touch Down that he turned down two feature requests over the years because he held a grudge against Sarkodie after their first encounter.
According to him, Sarkodie would not shake his hand the first time they met hence holding a grudge against him and promising never to give him a verse should he grow into a man.