In the midst of backlash on social media, award-winning gospel musician Diana Asamoah has at last responded to some of the terms of the termination contract she received from her previous label.
Even though the contract is dated August 4, 2022, it emerged on social media on Wednesday, September 14, 2022, and it has ever since then become a huge topic since many netizens cannot fathom portions of the deal signed by Diana Asamoah as her 22 years of work with music producer, Anane Frimpong popularly known as Frimprince comes to an end.
READ ALSO: Frimprince Production Terminates Contract Of Evangelist Diana Asamoah After 22 Years Of Working With Her- Details
In her response, Diana Asamoah challenged the decision of her former boss, Frimprince to have sole rights over nine of her hit albums.
The said songs are, Wo Na Mani Agyina Wo, Mabowodin, Akoko Abon, Madansidie, Pentecost Gya, Momomme, Wo Damu Fua, Tetelesta, and Pentecost Soree.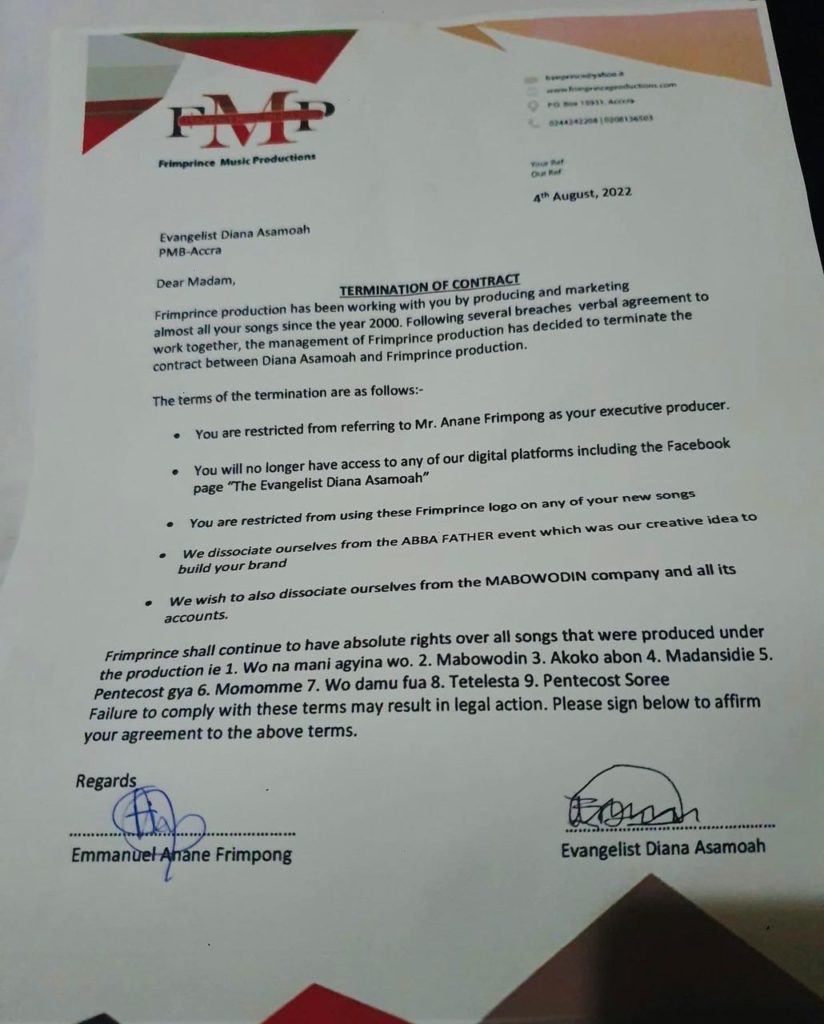 READ ALSO: H0rney Driver M@sturbates In Front Of A Passenger (+Video)
In very simple words, she directed his former producer to contact her songwriter Pastor Simon Boama to reach an agreement on his decision to own her major albums which he produced between 2000 to 2019.
"With reference to the conclusive part of your letter I plead to differ, any future issues with regards to me (Evangelist Diana Asamoah) using the songs, remaking or remixing them should kindly be channeled to Pastor Simon Boama the writer and author of the songs," a portion of her letter reads.