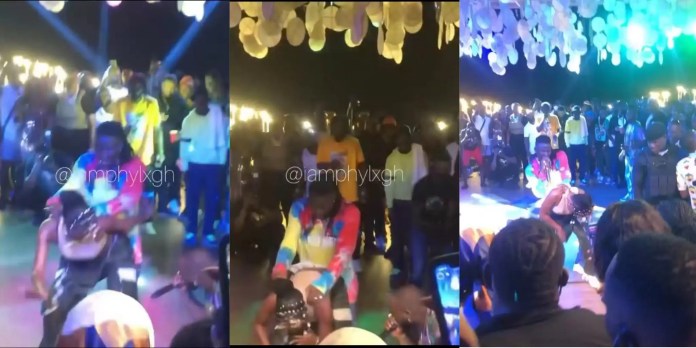 H0T! Stonebwoy Mercilessly Grinds The Improved Backside Of Efya Publicly While His Wife Looks On (Video)
Last night, Burniton Music boss, Stonebwoy and his colleague from Nigerian, Davido successfully put together their 'Activate Concert' which was totally sold out, despite the high ticket prices.
So far, a lot of photos and videos from the successful concert have made their way online and social media folks have been happily reacting to them.
READ ALSO: Antoa Chief Priests Call Fameye After Ogidi Brown Took Him To Popular River Shrine – Details Emerge (+Photos)
One of those videos, which is, however, causing a lot of stir online is that Stonebwoy seriously grinding the recently increased backside of multiple award-winning singer, Efya at the concert while his wife, Dr. Louisa who was also at the concert looked on.
In the videos seen online, Stonebwoy who was performing his viral hit song dubbed "Mightylele" didn't hesitate to grab Efya by the waist and grind her after he saw her tw3rk to the song.
READ ALSO: Fall Of The Year: Lil Win Falls Heavily While Performing At Fameye's Concert (+Video)
Efya, who was obviously enjoying her time at the concert, bent down with her backside hanging in the air whiles Stonebwoy was also seriously grinding it.
Just maybe, Dr. Louisa will not be happy about it but in the end, I guess she will understand that it is just showbiz.
Check the video below for the action…