itel is set to unleash its highly-anticipated flagship smartphone, the itel S23+, in Ghana. This cutting-edge device promises to elevate your smartphone experience with its innovative features, all at an affordable price point.

Get Ready for an Immersive Display: The itel S23+ boasts a stunning 6.78-inch FHD+ AMOLED curved screen that will blow your mind. This curved display wraps around the edges, immersing you in your content like never before. With a whopping 93% ultra-high screen-to-body ratio, colors come to life in a way that's truly captivating.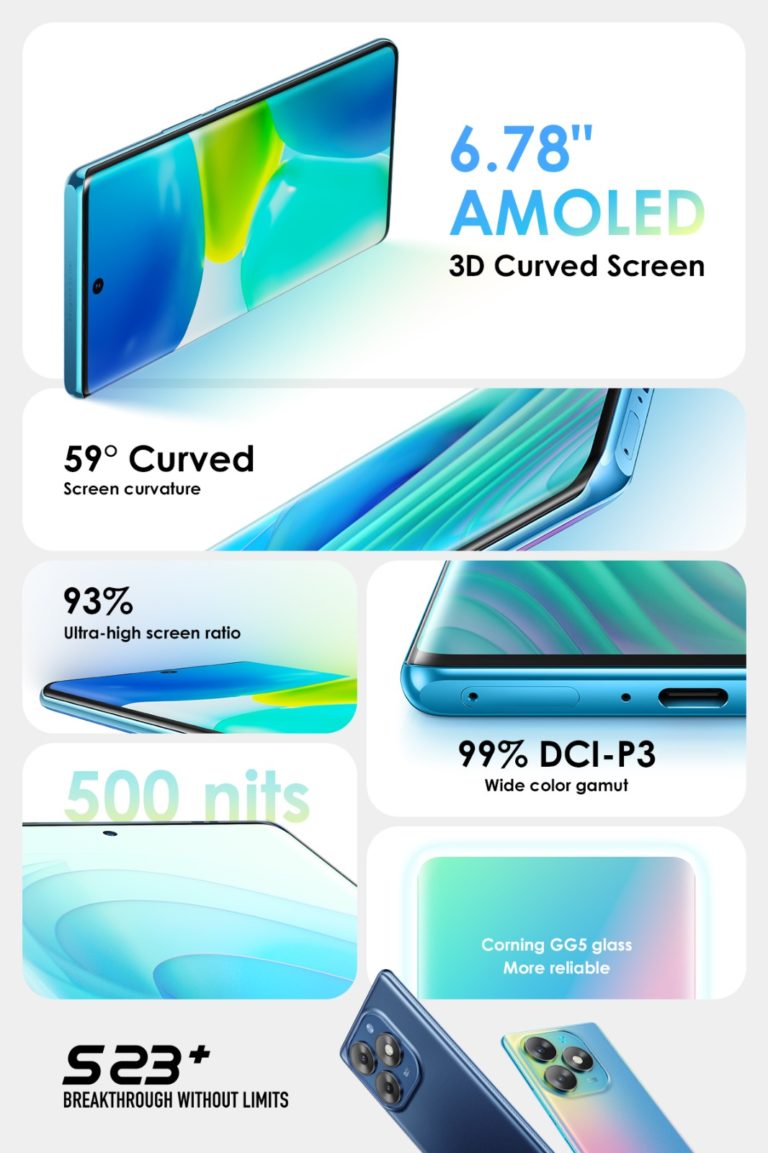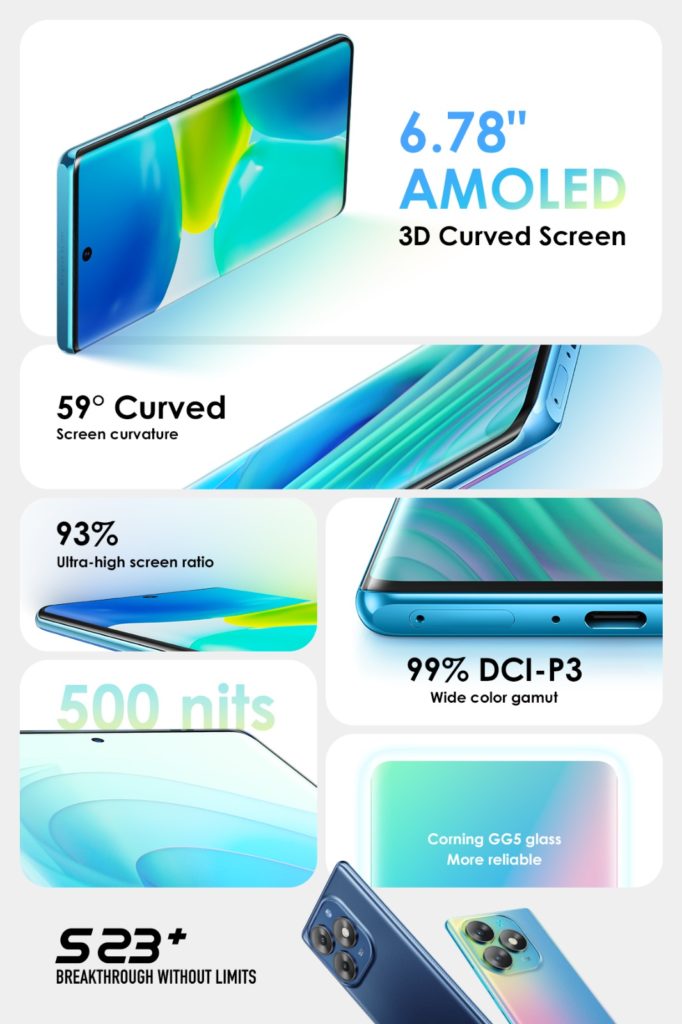 You'll enjoy vibrant and true-to-life colors thanks to the impressive 99% DCI-P3 color saturation. Plus, the contrast ratio has skyrocketed to 400000:1, ensuring clarity even in tricky lighting situations.
Your visuals will pop with a high resolution of 1080×2400. And don't forget the in-display fingerprint tech for convenience and Gorilla Glass 5 for durability.

Meet Your AI Assistant, Aivana GPT: Running on the itel OS13 system, the itel S23+ will seamlessly integrate with the Aivana GPT voice assistant. This means you can use your voice to handle phone calls, WhatsApp, music, messages, weather, maps, alarms, searches, translations, and more. It's all about saving you time and effort.

Powerhouse Performance and Storage: The itel S23+ sets a new standard with up to 16GB of RAM and a whopping 256GB of internal storage. The Extended RAM technology kicks in an extra 8GB from ROM, ensuring smooth multitasking even with many apps running in the background. And with 18W Fast Charge and a hefty 5000mAh battery, you won't run out of juice anytime soon. A full charge takes just 2 hours.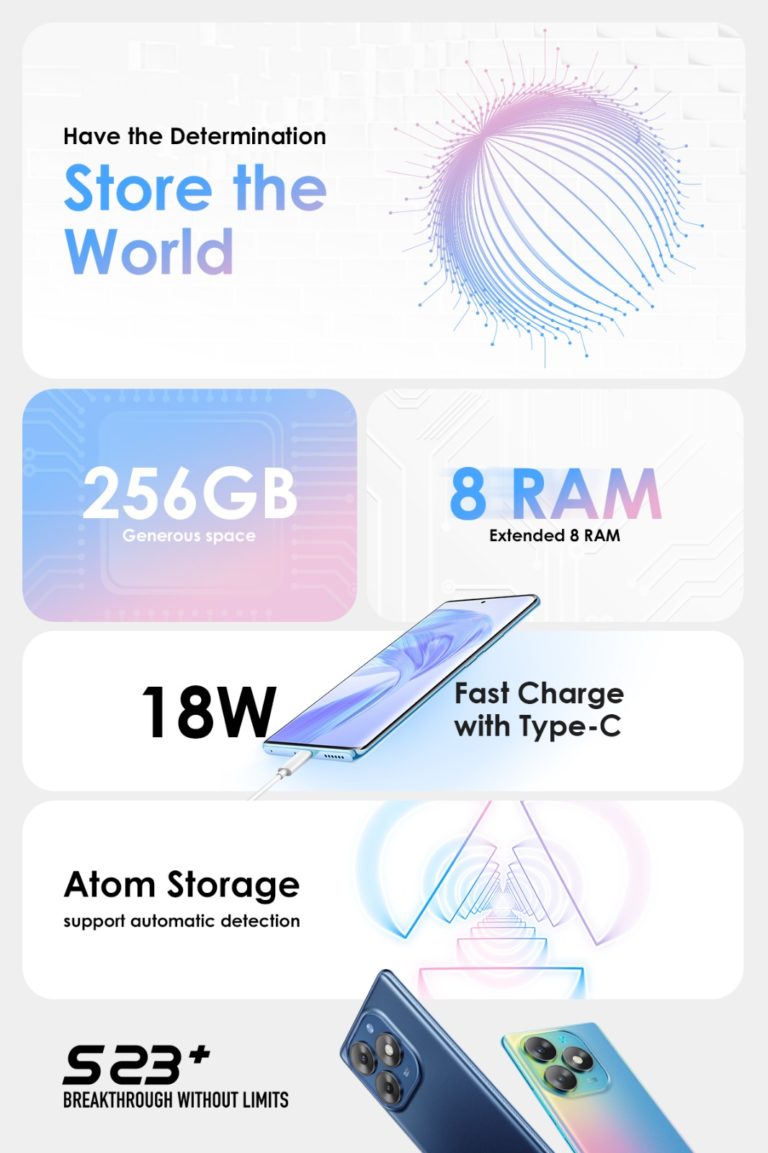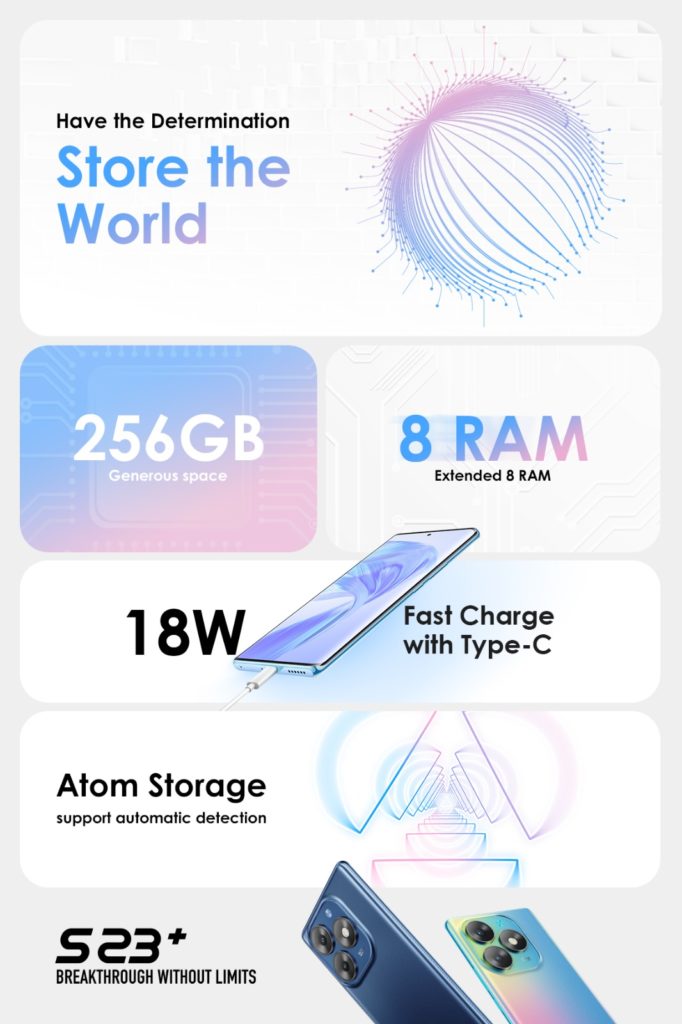 Photography Excellence: Capture your cherished moments with the 32MP AI Selfie camera and the remarkable 50MP Portrait Camera. The F1.6 large aperture lets in plenty of light, resulting in stunning photos even in low-light conditions. The Eye Tracking mode ensures you never miss a shot, and the Portrait Lite feature lets you tweak every detail of your photos to perfection.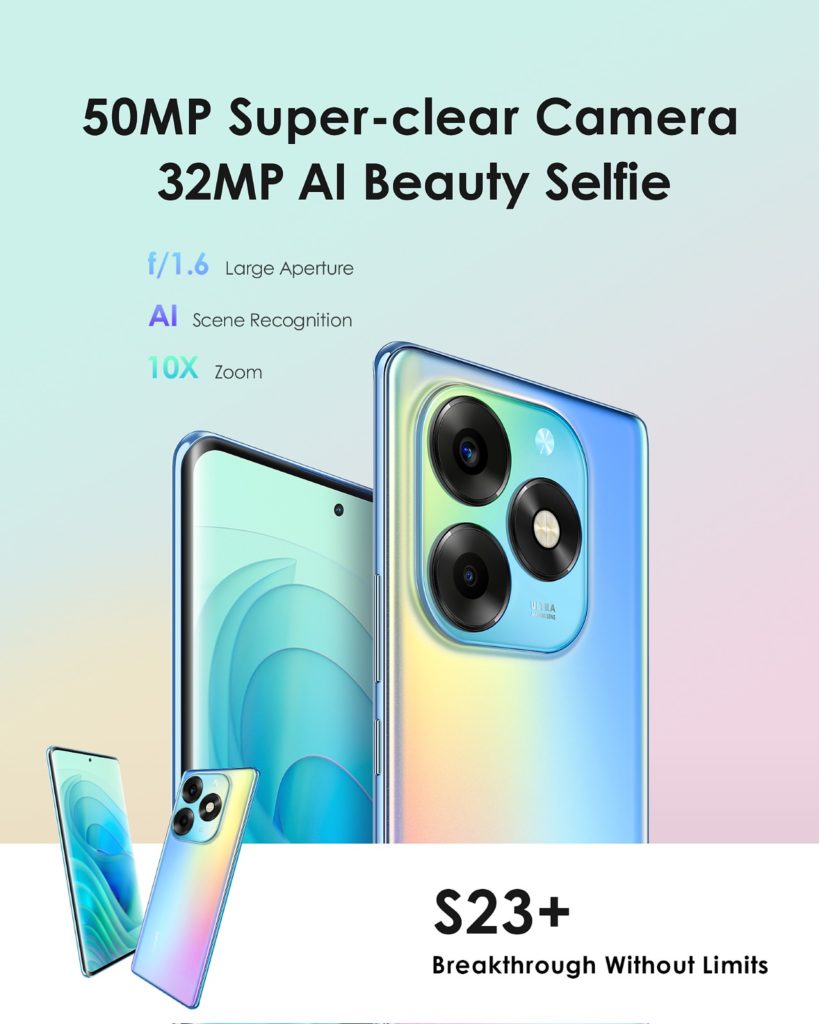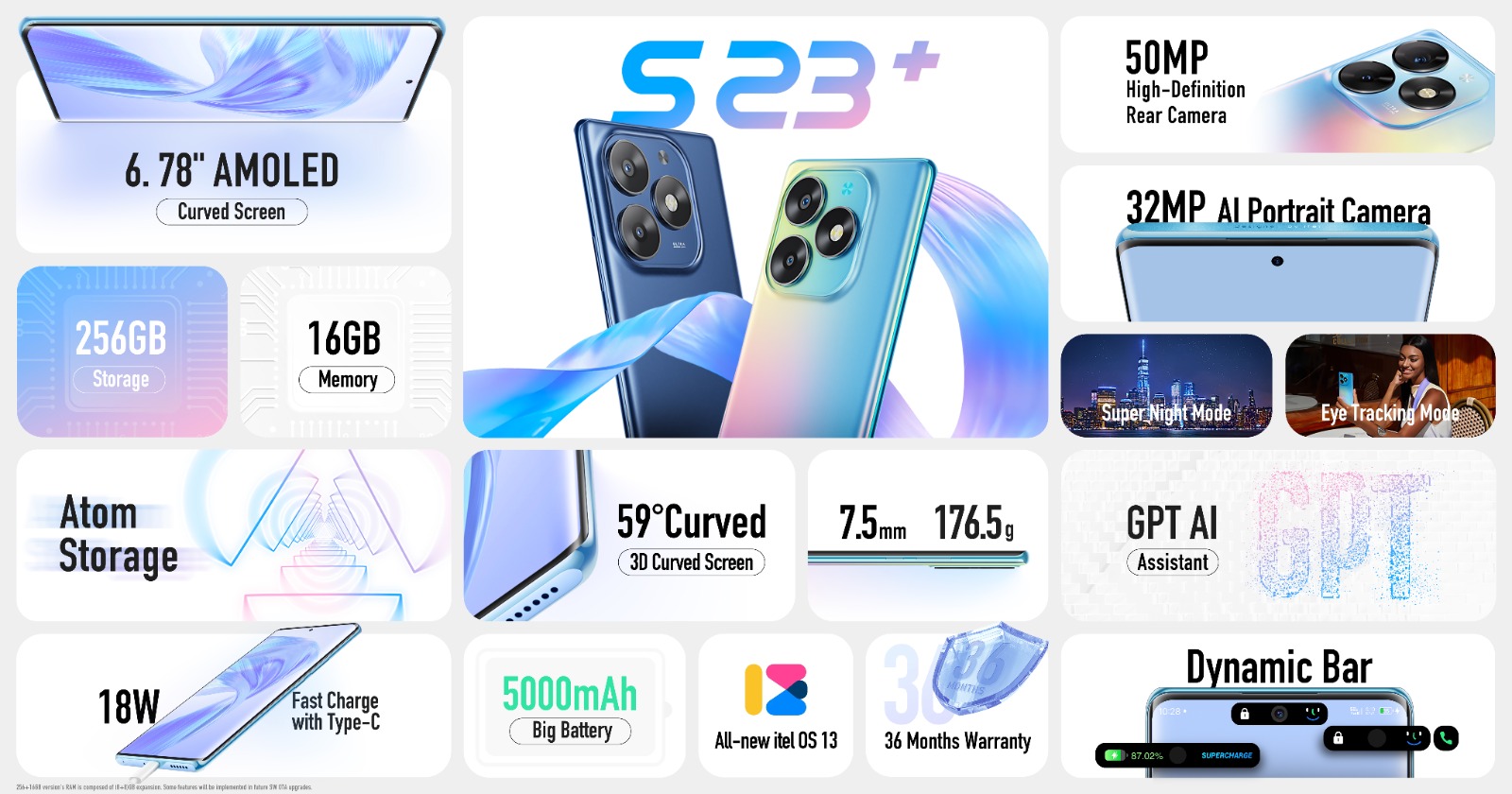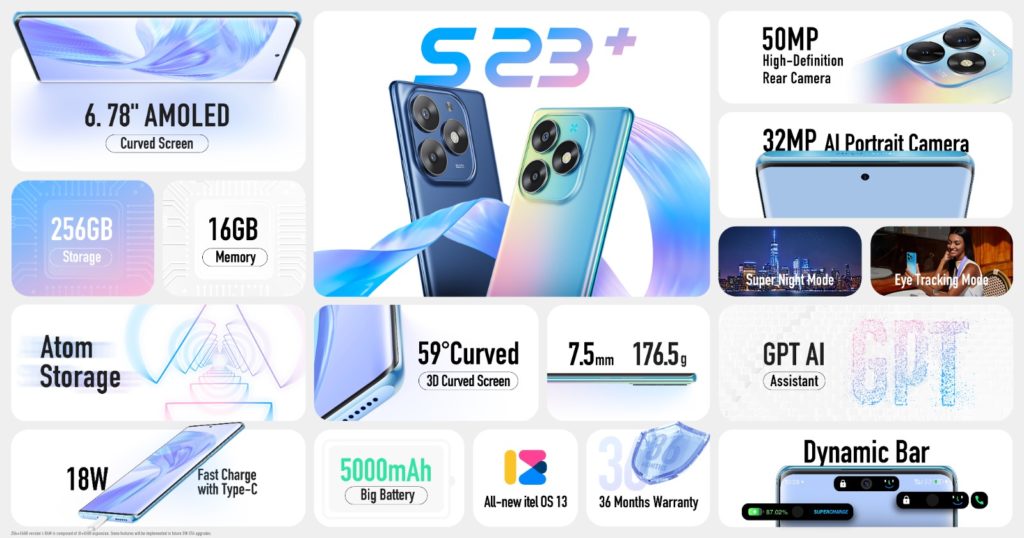 Customer Satisfaction Guaranteed: itel stands by its product with an impressive 36-month warranty and 6-month free screen replacement. This speaks volumes about their confidence in the product's durability.

The launch of the itel S23+ in Ghana showcases itel's dedication to innovation and meeting the needs of young and trendy consumers. This premium curved screen smartphone is a game-changer that pushes the boundaries of technology, all while keeping you satisfied. Get ready to experience a new era of smartphones with the itel S23+.