The Fante rap god, Kofi Kinaata, has finally provided some reasons for his cancellation of the 2022 edition of his popular music concert, 'Made In Taadi'.
The award-winning musician broke the heart of his numerous fans when he released a statement on Thursday, December 8, 2022, to announce that the concert many people were looking forward to, was not coming off.
READ ALSO: Rapper Lousika's Rich Husband Brings Mcbrown, And Other Top Stars Together As He Opens World-class Luxurious Apartment, Ridge Condos – Watch Video
In the said statement, Kofi Kinaata and his team only revealed that they arrived at such a decision because of some reasons which were beyond their control.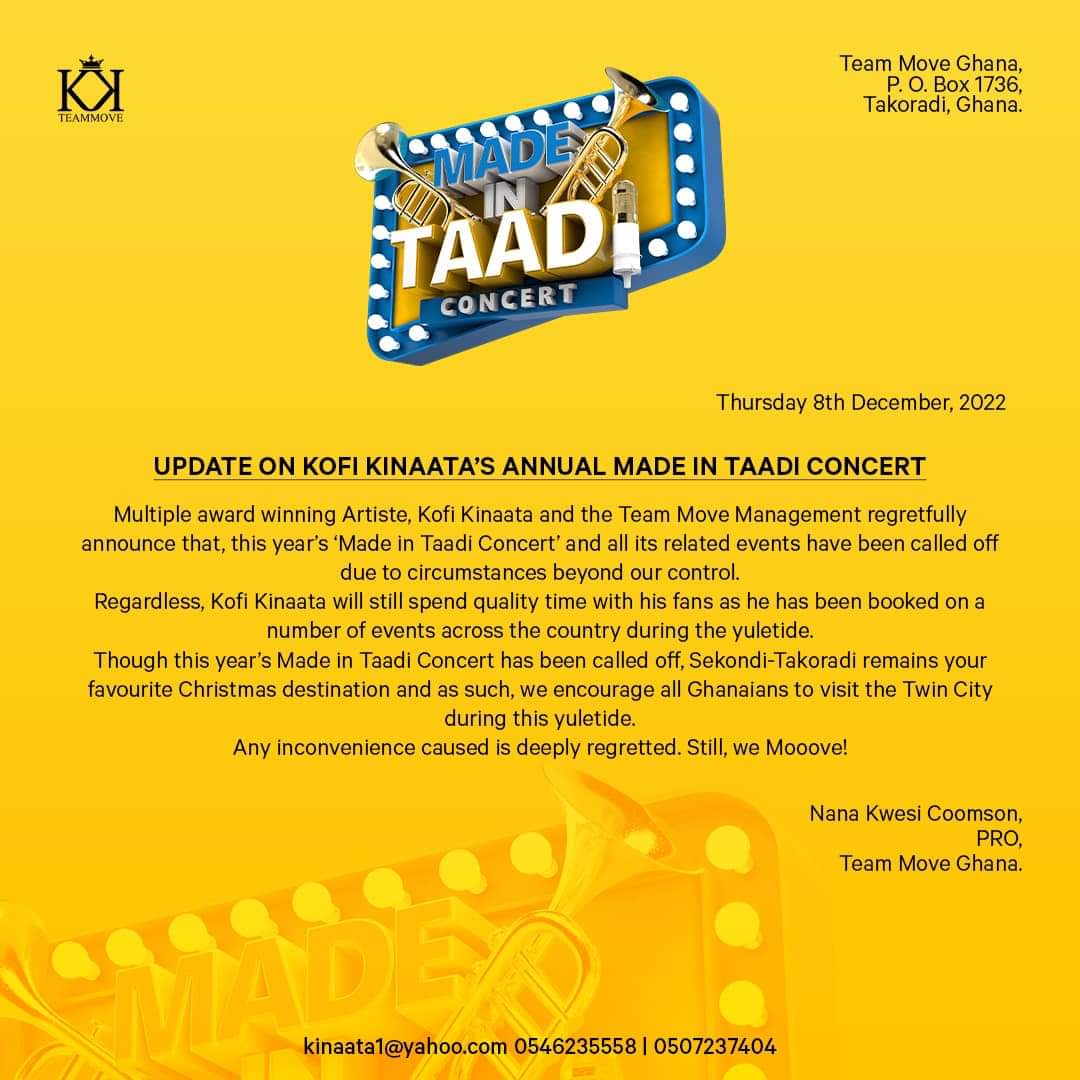 READ ALSO: More Photos Of Sammy Gyamfi's New Wife Surface Online As Former President Mahama, Ibrahim Mahama, And Other Bigwigs Storm Their Wedding
A lot of people began to speculate that the only reason for the cancellation was that he did not have funds to organize the concert this year, however, in an interview on Asaase FM on Wednesday, December 21, Kinaata explained that their challenge was with a venue.
"We didn't get a venue. The Jubilee Park [the usual venue] is now a temporary market because of the renovation work happening at Market Circle," he stated.
READ ALSO: VIDEO: 'You Are Very Stup!d' – Asantewaa Tells Eyram In Le@ked Vuwulent Audio As Their Feud Continues
The 'Confession' hitmaker went on to add that the next venue they considered that could accommodate a large number of fans was not available as well.
"There is a construction happening at the Poly [Takoradi Technical University] Park as well. I think an astroturf work or so…The annual attending crowd is also too much to take anywhere else," he added.
Well, 'Made In Taadi' might not be coming off this year, but Kofi Kinaata has given fans a perfect Christmas gift, which is his latest single titled 'Everyday (Essikafo Ammba Ntem)'.