American rapper, Meek Mill has apologized to Ghanaians and the presidency for sharing a video he shot at the Jubilee House on social media.
In two separate tweets, the 'God Did' crooner stated that he shot the video without any malice intended.
READ ALSO: Yes, my brother dated Maame Serwaa – Frank Naro's sister reveals as she goes into details as to how they supported the actress during her mother's death
According to him, he did not know much about the culture in Ghana and did not notice that the video he shared was going to receive the severe backlash he has seen on social media.
Meek Mill added that he will continue to work hard to create a link between the blacks in America and those in the African continent through his music.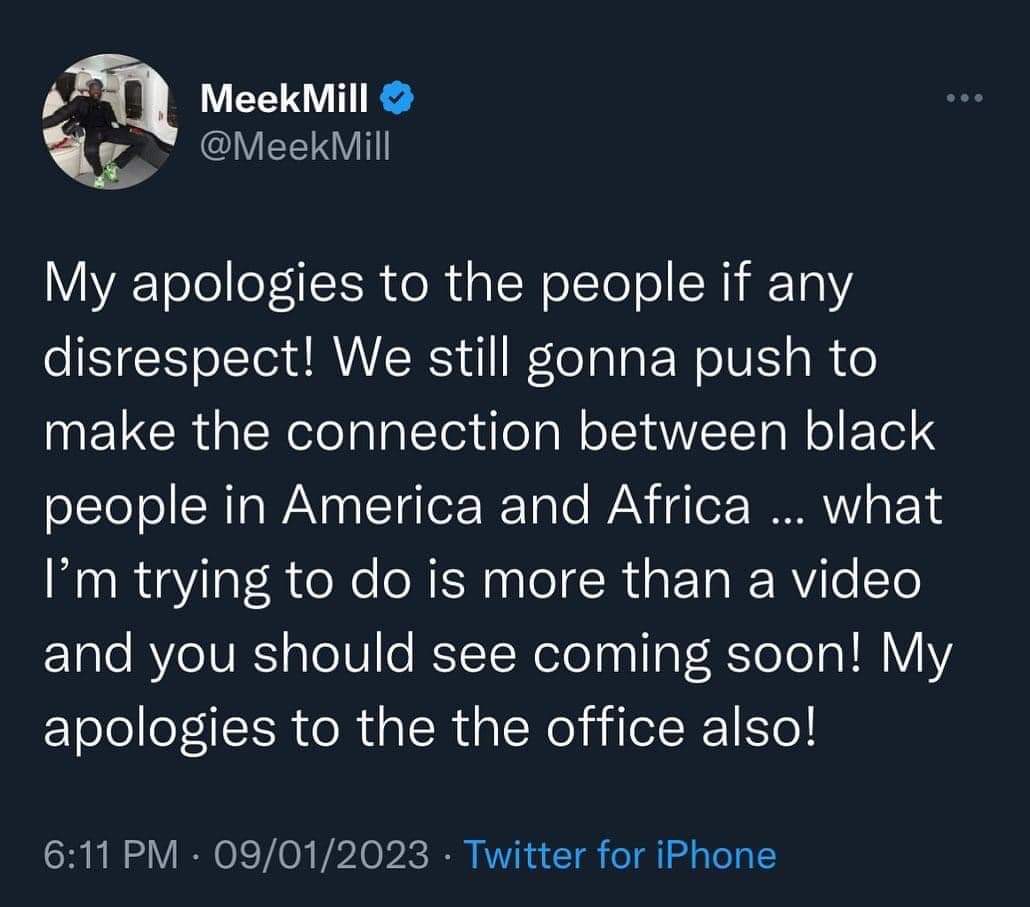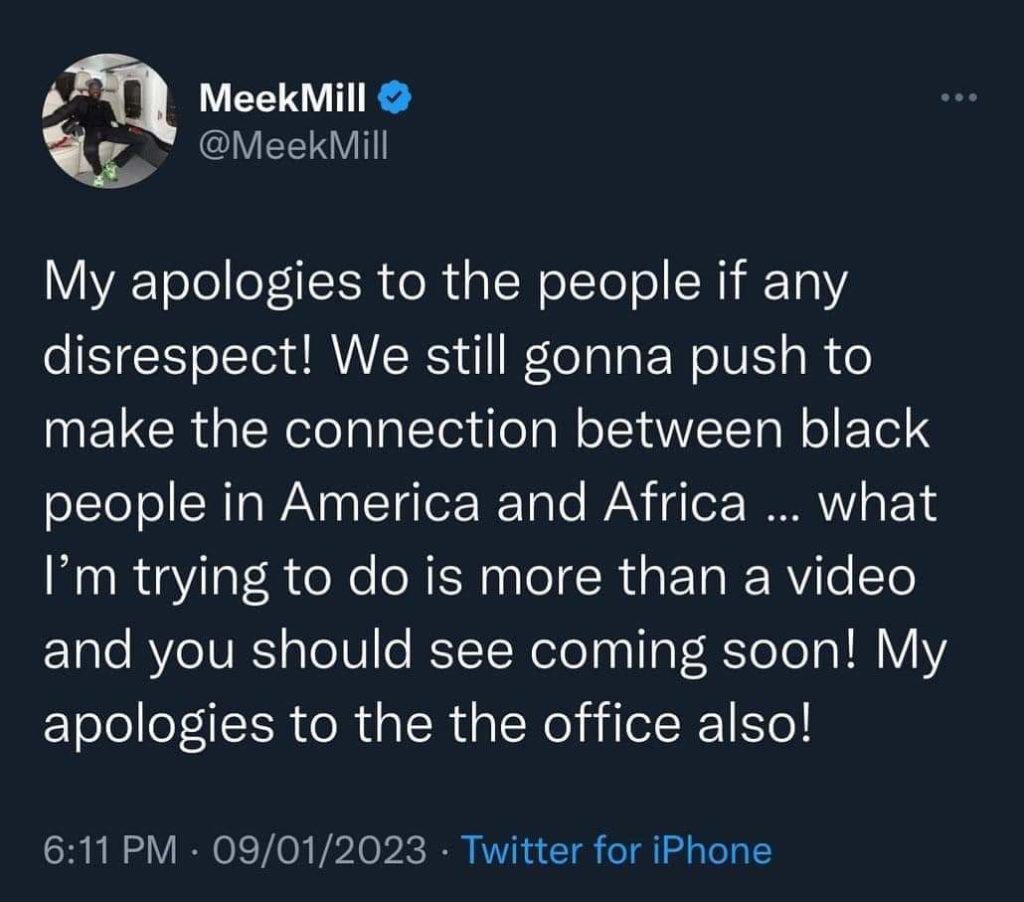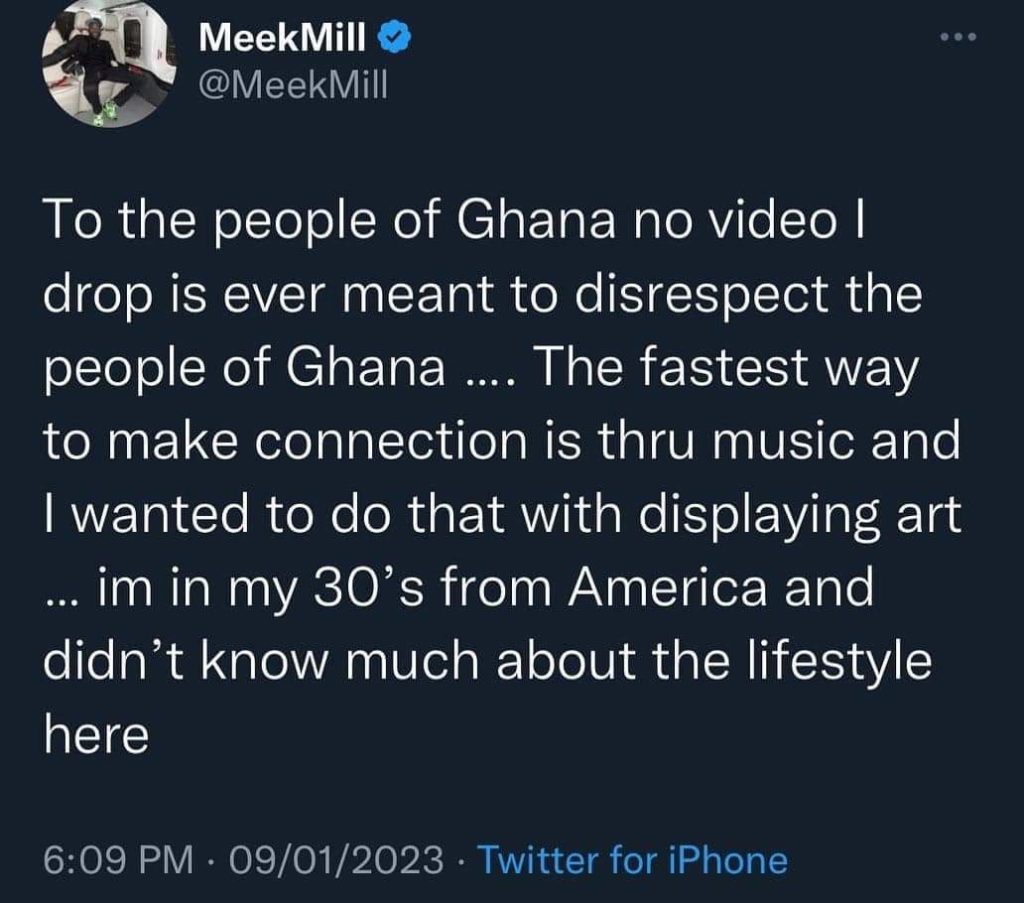 Background…
Meek Mill was in Ghana in December for the 2022 edition of Afro Nation.
READ ALSO: Zionfelix's Mom Cries As He Gifts His Parents Four-bedroom House And Car – Watch Video
During the period, the rapper had a lot of fun and put up a beautiful performance when he mounted the Afro Nation stage on Thursday, December 29, 2022.
He however lost his phone in the process but eventually, the phone was found and returned to him at the presidency by the Deputy Director of Diaspora Affairs at the Office of the President, Nadia Musah Adongo, when the rapper paid a courtesy call on the president.
READ ALSO: 'Those Who Hate Me Are Anim@ls' – Sarkodie Berates
While many people thought the Meek Mill only visited the presidency for his phone, it emerged on Sunday, January 8, 2023, that he shot a freestyle video at Ghana's seat of Government.
After he dropped the teaser of the video on his Instagram, Ghanaians have been reacting in shock because the Jubilee House is a place marked as a security zone where pictures cannot even be taken.
READ ALSO: Moesha Boduong Responds To Pascal Amanfo's Open Letter
Meek Mill is seen at different places at the presidency, from the frontage, through to the main corridors, in the main conference hall, where he is seen behind the presidential lectern, and later in a sitting area rapping.
As things stand, the presidency has still not come out to confirm or deny if they authorize the shooting of the video at Jubilee House.