Ghanaian musician Kirani Ayat is taking on the Ghana Tourism Authority and other government agencies for allegedly using his song for a campaign without his permission.
Kirani Ayat called out the Presidency on Tuesday, September 27, 2022, for using some portions of his music video in an advertisement without his permission.
READ ALSO: Actor Kompany Begs Ghanaians To Come His His Aid After His Family House Got Completely Flooded
This was after the President, H.E. Nana Addo Danquah Akufo-Addo shared a video to promote tourism in Ghana to mark World Tourism Day 2022.
In the video, which captures beautiful scenes of the country with a VoiceOver by the President, some portions of Kirani Ayat's music video for his hit song "Guda" can be seen in the video.
Beneath the deep blue sky, the Black Star is calling. Follow the stars and let them take you on a journey of our people. I invite everyone to the country at the centre of the world – #Ghana 🇬🇭. #VisitGhana2022 pic.twitter.com/2m5KC2QTkt

— Nana Akufo-Addo (@NAkufoAddo) September 27, 2022
READ ALSO: Lilwin Mobbed As He Storms Senior High Schools In Kumasi To Begin His DPS Free Pens Tour
In his first reaction to this alleged illegality, Kirani Ayat disclosed that in 2018/2019, he got no reply after reaching out to the Ministry of Tourism to give him permission to use the said video to promote tourism in the north.
"The president of Ghana has used my video "GUDA" in this ad to promote Ghana. I was actively reaching out to the Ministry of Tourism in 2018/19 to use this video to push tourism in the North and got NO reply, yet today it's in an ad and no one reached out to me for permission," he wrote on Twitter.
He went on to add: "Whoever worked on this video should've reached out to the rightful content owners before proceeding. I spent my all in making GUDA possible, I'm sure you were paid for this job, where is my cut ?"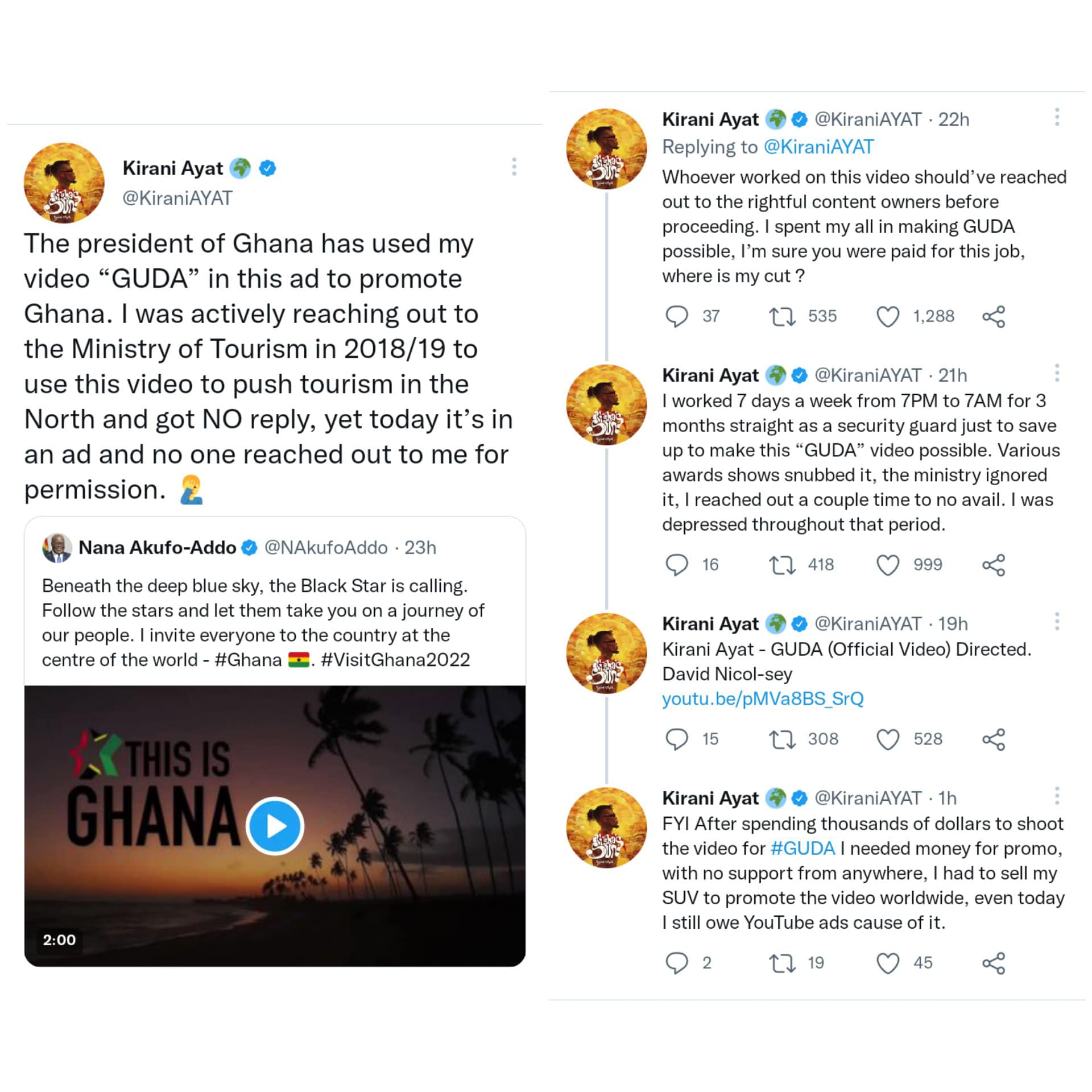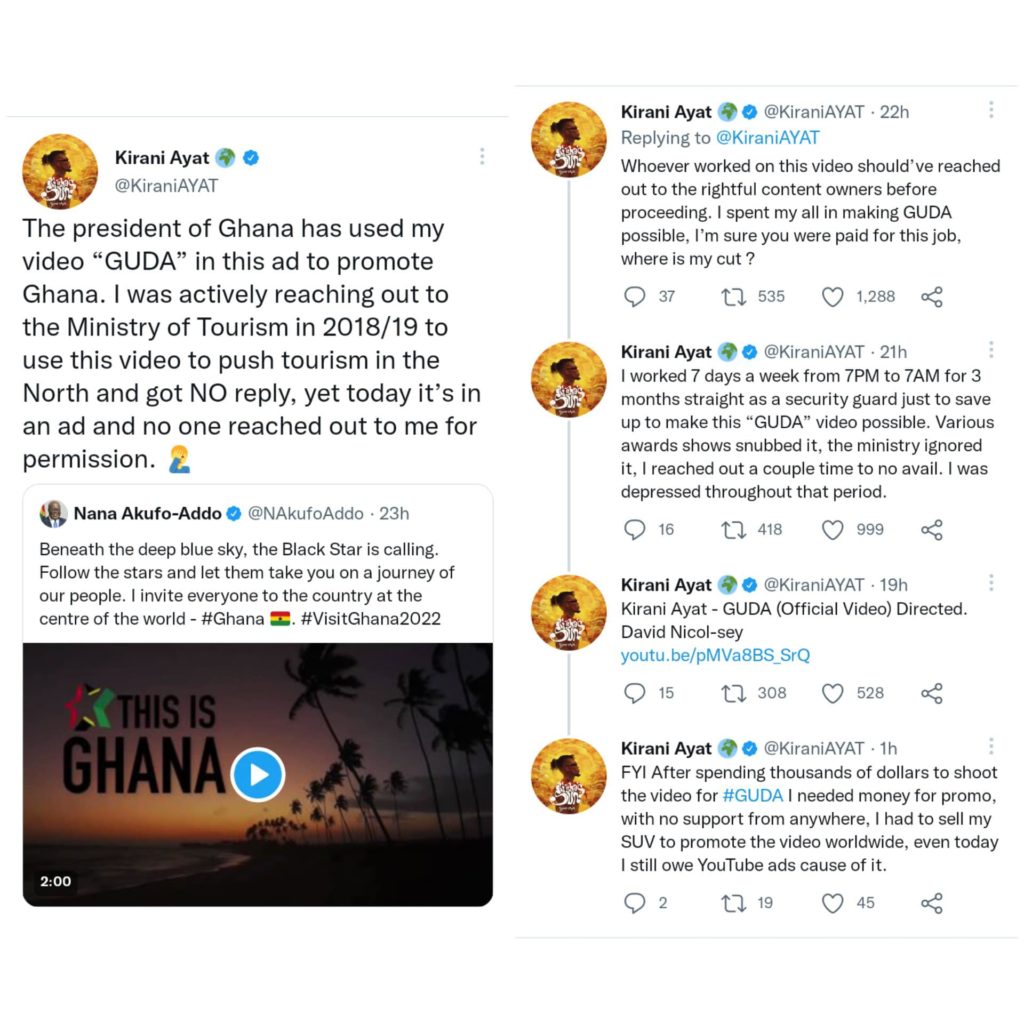 READ ALSO: Wanlov tears Prof. Gyampo apart, calls him a "sexual predator" over Akufo-Addo's Global Citizen Festival booing incident
After Kirani Ayat's batism of fire on the Ghana Tourism Authority, they hurriedly came out with a statement on Wednesday, September 27, 2022, to claim that they had legally acquired the video.
A portion of their statement shared on their social media pages read: 'the footage in question was acquired legitimately from a bespoke creative agency as part of a project in 2019," the musician has revealed he owns the exclusive rights to the visuals and finds it telling that the Authority could issue such a statement.'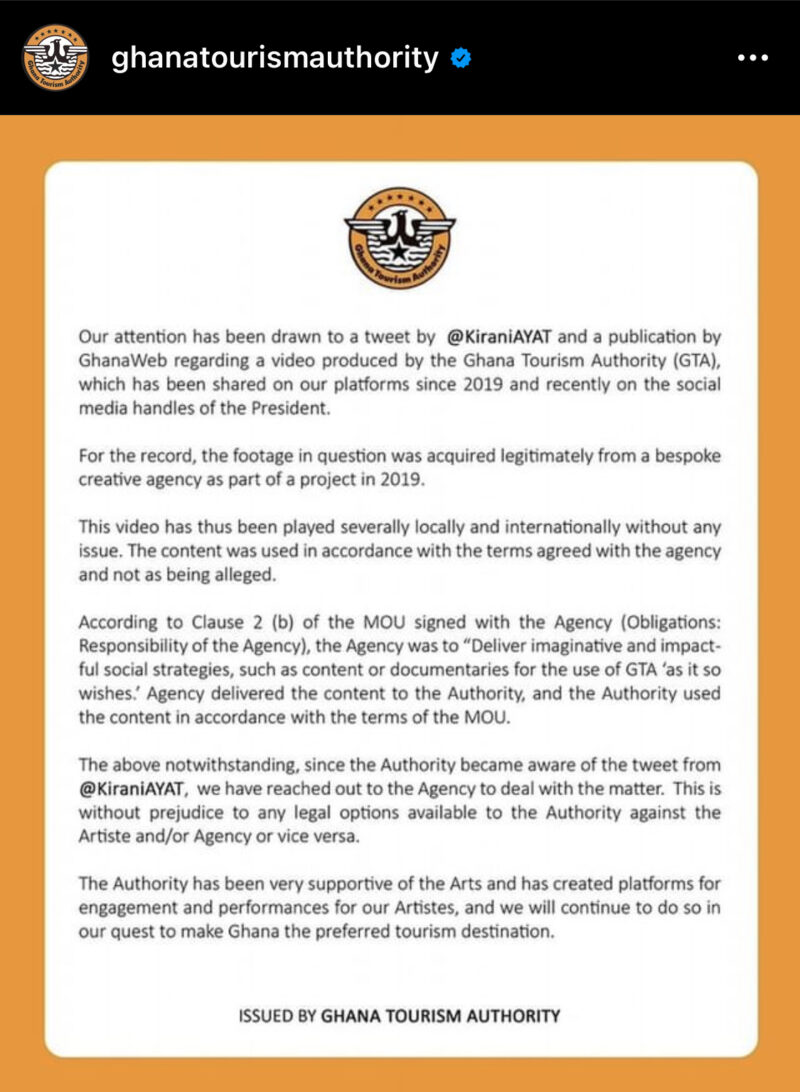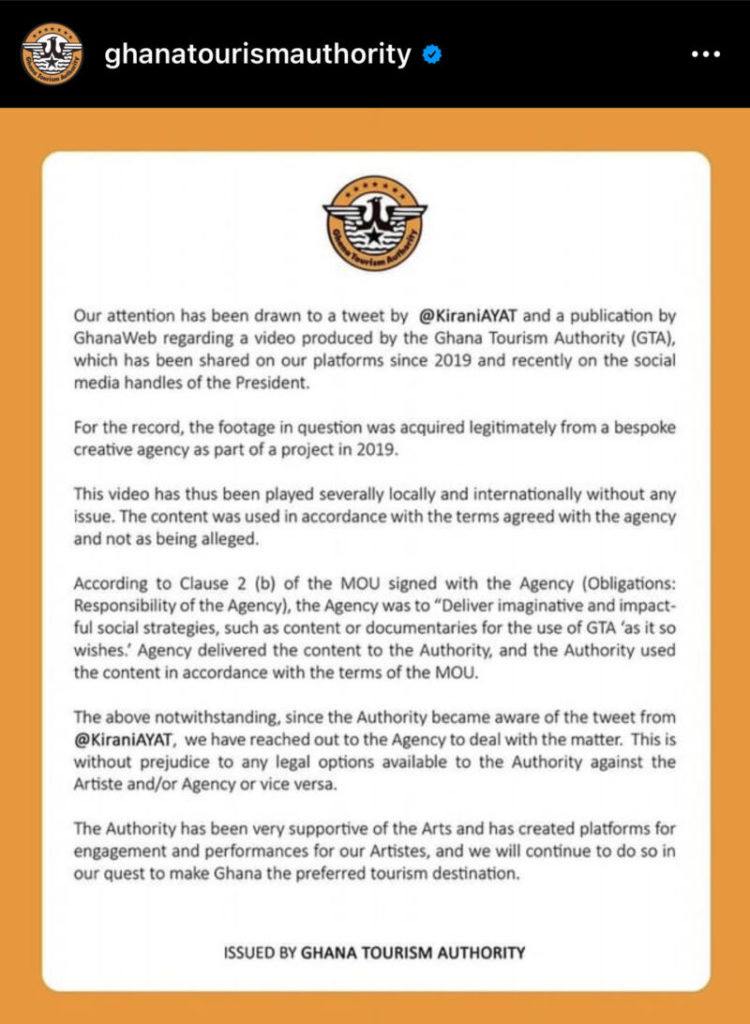 READ ALSO: Videos Of Shatta Wale's Newly-acquired 3-Bedroom Apartment Worth Over $450,000 Surfaces Online
Well, Kirani Ayat has ensured that this is not the last on this matter. He has released another reaction to ask the Ghana Tourism Authority to make public this document they signed to have legal grounds to use the video.
He also stressed that he has not given the power to anybody or agency to work on his behalf.
Kindly read what he wrote below;
In response to the statement issued this morning by the Ghana Tourism Authority, I, Kirani Ayat would like to categorically state that NO agency has any RIGHTS whatsoever to my intellectual property.
I have NOT given rights to any agency to use my likeness or work on my behalf. As such, there is no agency agreement, and I find it telling that the name of this supposed agency was not revealed in the statement. Likewise, the Ghana Tourism Authority has also NOT been given any right to use my video in any of its promotional materials.
As an independent artist and SOLE owner of the video used in the "visit Ghana" Ad campaign, I have NO agreement with any government or private entity to use my intellectual property.
The agency in question needs to be named, and signed documents made publically available that demonstrate clearly when, where and under whose authority the supposed agreement was signed."