Nothing Can Ever Separate Stonebwoy And Me – Ayisha Modi Vows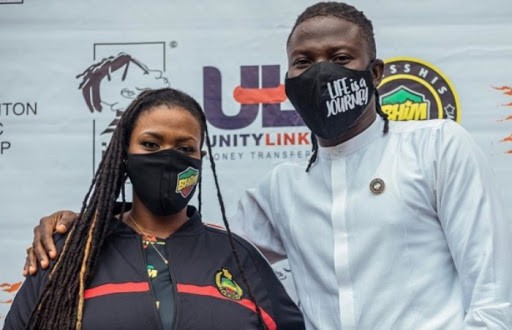 The most loyal fan of Stonebwoy, Ayisha Modi has said her love for Stonebwoy is real.
Following her argument with Obrafour and his team over an amount of money she gave to him some years ago, a section of Ghanaian social media users cautioned Stonebwoy to be careful about his dealings with Ayisha.
READ ALSO: I Introduced Over 62 People Into Wee Smoking – Kumawood Actor Reveals
Replaying to these people in a new post sighted by Zionfelix.net, Ayisha Modi stated that nothing can separate Stonebwoy and her.
She asked people to mark it on their walls because the relationship between Stonebwoy and her will last for a long time.
READ ALSO: Wei Ye Oteng Is Like A Toilet Paper For Me – Ayisha Modi
Ayisha Modi wrote: "MOST people would rather hate on the successful, than LEARN from them. Never put your time into the hands of the ungrateful. Nothing can come between STONEBOWY and Myself cos is too fucking REAL for my soul. You guys can mark this day on ur walls. 🤣🤣🤣😂🤣😅😀😃😄😁😆😆😁😃😀😂. Those wishing for fight between Stonebowy and myself pls ask God for more life cos that day will never come 😄😄😄😄😄😄😄"