It appears that the boss of OGB Music, Ogidi Brown has actually walked the talk about going to the deities at the popular town, Antoa to deal with his former signee, Fameye because he owes him an amount of $50K.
Not long ago, Ogidi Brown shared a new video of himself that highlights his arrival in Antoa to curse his former signee, Fameye as he had threatened earlier in his viral video.
READ ALSO: Fameye Drops His Much-anticipated 'Diss' Song For Ogidi Brown Titled "Pay Me" Which Features Lord Paper – Listen
Sharing the video of his arrival into the popular town known for its gods on Instagram, Ogidi Brown added the caption: "Papa any3 hwee aa bone ny3 hwee" , to wit, 'If good thing does not mean anything to people, then doing bad is also nothing".
Watch the video below…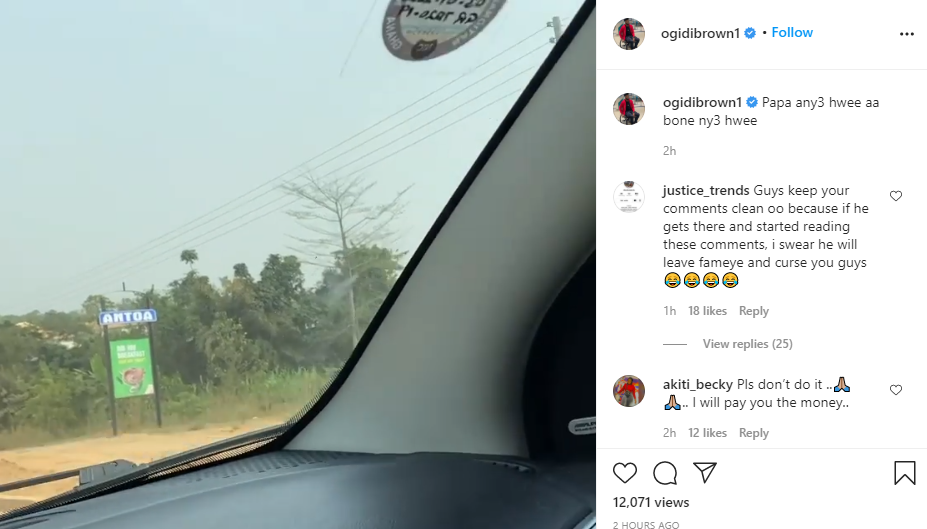 It should be noted that earlier today, controversial radio presenter, Miketwo Miketwo of Adom took to his Facebook page to reveal that the priests at the popular river god's shrine have contacted Fameye about the attempt Ogidi Brown has made on his life.