Veteran Ghanaian rapper, Obafour is seeking justice after Drake sampled his song 'Oye Ohene' without permission.
The popular Canadian rapper sampled this song from Obrafour on his song 'Calling My Name' off the Honestly Nevermind album.
Obrafour is demanding 10 million dollars, citing in documents presented to a court in New York, that Drake infringed on his copyright when he sampled his song without permission.
READ ALSO: Obrafour Sues Drake For Sampling His 'Oye Ohene' Song Without Permission
"Defendants released the Infringing Work on June 17, 2022, despite the fact that an agent of one or more Defendants had previously contacted Obrafour seeking to obtain Obrafour's permission for the use of the Copyrighted Work in the Infringing Work."
"Obrafour never granted Defendants permission to use the Copyrighted Work and the Infringing work was released mere days later," parts of the document read.
He further mentioned how Drake and others have benefited from his work.
"To date, over the mere 304 days that have elapsed since the Infringing Work was released, the Infringing Work has already been streamed over 4.1 million times on YouTube, streamed over 47,442,160 times on Spotify, and streamed tens of millions of times on Apple Music."
"In addition to generating enormous sums of global streams and sales across numerous platforms, the Infringing Work has also been exploited by the Defendants via other means, including live performance."
Again, he is seeking an injunction requiring the "defendants and their agents, employees, officers, attorneys, successors, licensees, partners, and assigns, and all persons acting in concert or participation with each or any one of them, to cease directly and indirectly infringing, and causing, enabling, facilitating, encouraging, promoting, inducing, and/or participating in the infringement of any of Obrafour's rights protected by the Copyright Act."
Aysiah Modi who parades herself as the former producer has fumed at the wordsmith for suing the American rapper.
According to Ayisha, before Obrafour goes about suing people for 'stealing' his intellectual property, he must first pay her for the money she invested in her album 13 years ago.
Concert party @mobrafour make sure you pay me back all the money I Ayisha Modi invested in ur Album 13 years ago before you sue someone wai," she wrote on Instagram.
According to further allegations by Ayisha Modi, she supported the production of Obrafuor's highly successful "Kasiebo" album, but never got any returns from the investment.
"Nature will catch up with u walaii Ofoui. See who is suing someone. I cursed u . You will not have no peace until u come out and tell the world the truth about how I invested in ur KASIEBO ALBUM," she further alleged.
"@agyekumkofi was Ur manager at that time and he was the main reason why I invested all that money in ur project. U will be suing people saaaa to feed until you pay me back my money or you tell the world the truth. Karma and nature will catch up with ya," she added.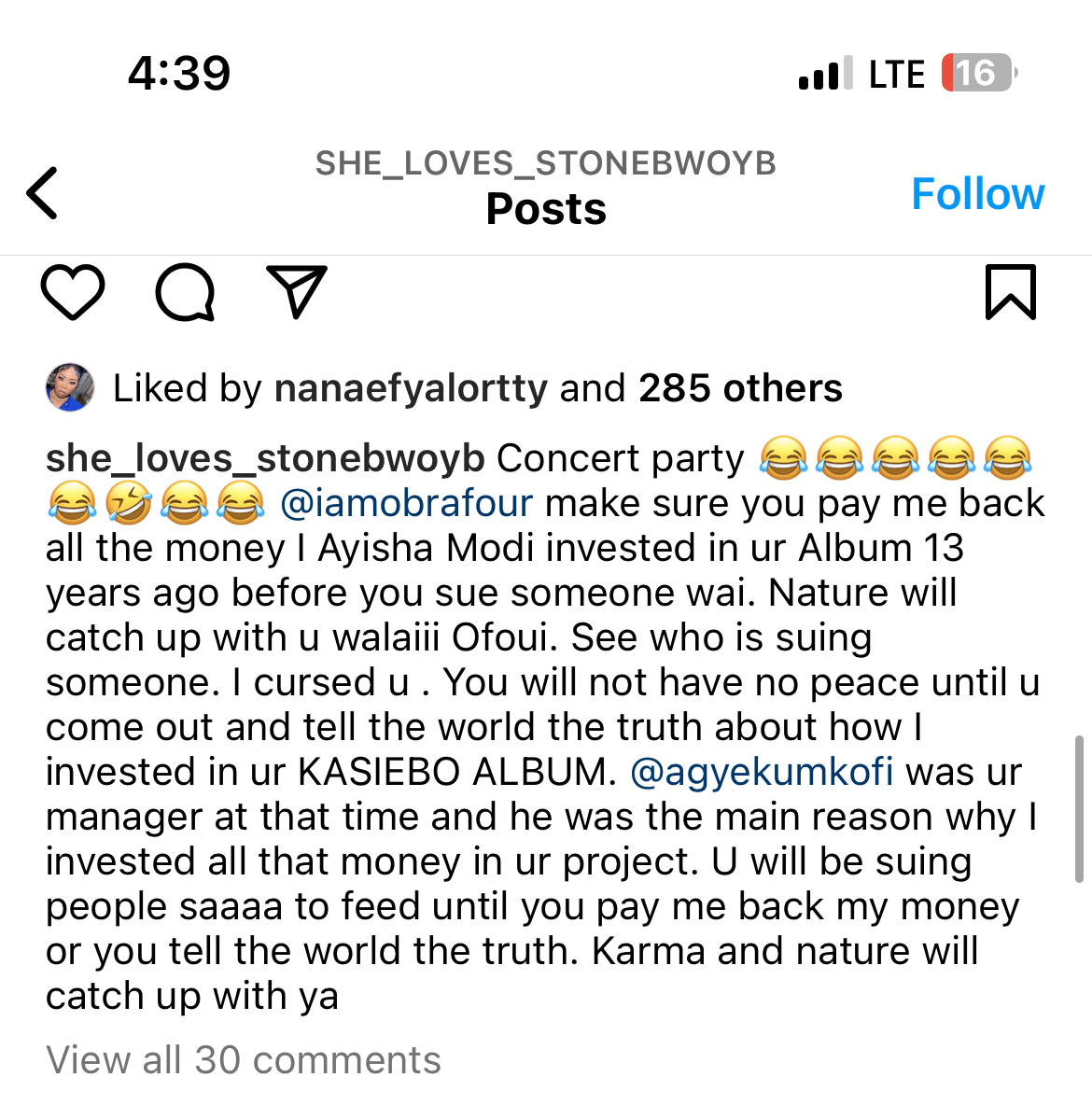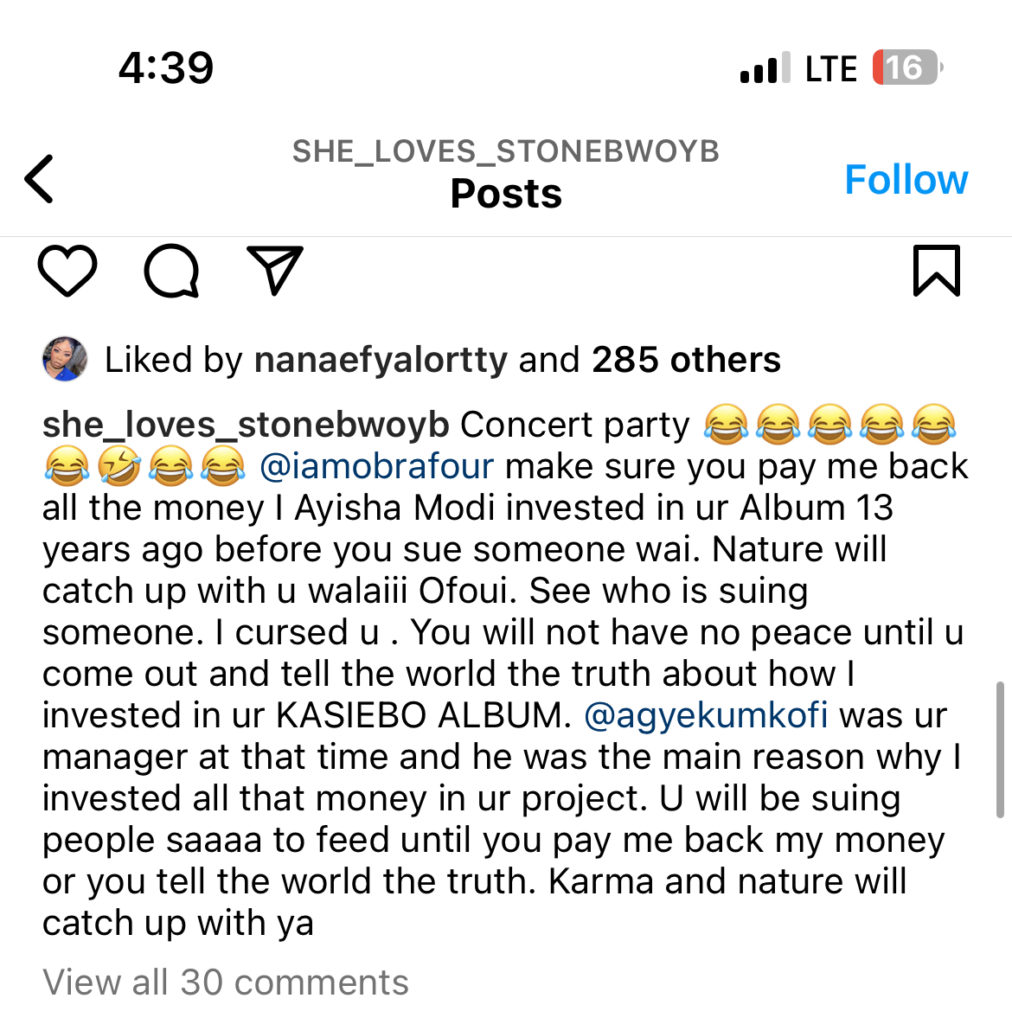 READ ALSO: Youth Of Pakyi Angry Over Kyekyeku's Dialogue Against Their Town In Akacalito Movie (Video)