United Television's 'United Showbiz' which is hosted by screen goddess, Nana Ama Mcbrown is one of the most-watched entertainment reviews shows in Ghana.
Over the years, the show has carved a niche for itself as one of the most-talked-about, especially on a Saturday as it keeps topping the trends on social media.
READ ALSO: It Was Unwise For Jackie Appiah To Show Off Her Luxurious Mansion – Bulldog
Despite all the positives from the show, a lot of viewers have been complaining in the last few months about the time the production team of the show use to play adverts.
There are days adverts run close to thirty minutes when they go on a commercial break on the show.
READ ALSO: Video: Nana Ama McBrown Reveals The Real Truth About Her Absence On United Showbiz
During the Saturday, July 2, 2022, edition of the show, a netizen who goes by the name Manye Dede took to her Facebook wall to complain about the number of adverts on the show.
Her post we have sighted reads: 'Show baako advert 20 million', to wit, just a single show, there are over 20 billion adverts on it.
READ ALSO: Arnold Asamoah-Baidoo And Mr. Logic Cl@sh On UTV – Watch Video
Her post, however, saw legendary sound engineer cum entertainment critic, Fred Kyei Mensah who is affectionately called Uncle Fredyma revealing that the adverts are important for the show because the production alone costs over Ghc30.000 when he reacted.
Uncle Fredyma's full comment reads: 'Allow. It's an expensive production. They spend about 30,000 ghc or more on each production. It is the advert that pays for the program. Lol'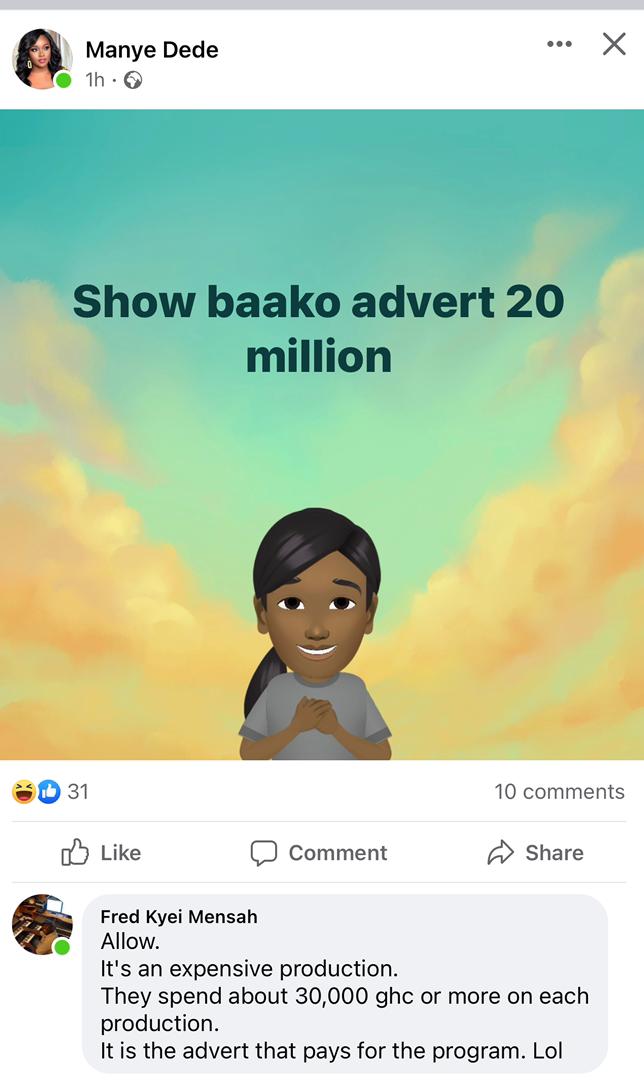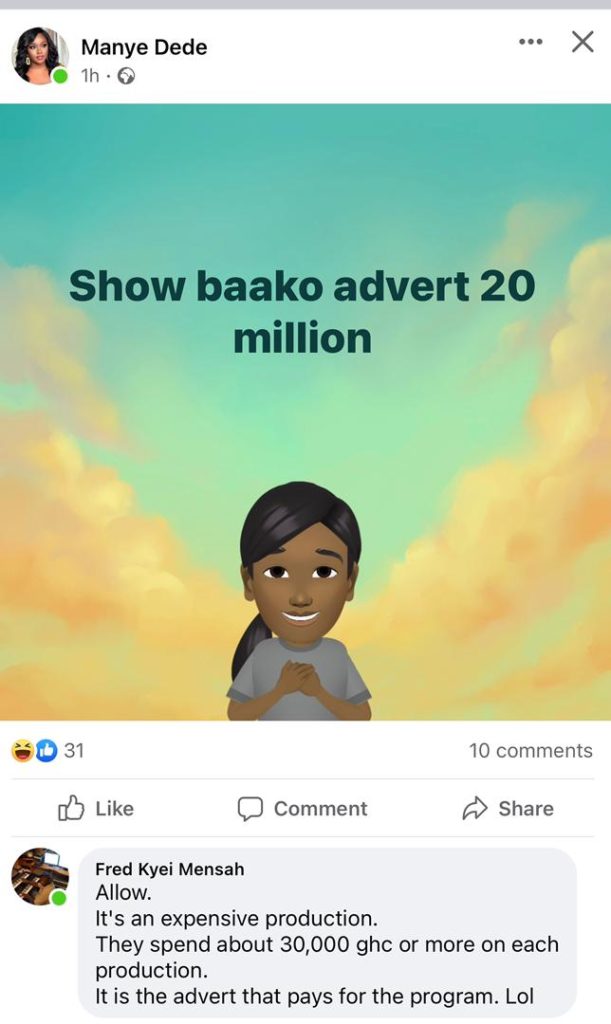 It should be noted that Uncle Fredyman is not a part of the production team of the show so the figure he quotes can be more or even less.