Yesterday, Shatta Wale announced a plan to reduce the high rate of unemployment in the country by creating an avenue to help his fan base first.
The Shatta Movement boss revealed that he was introducing a transportation company. 'Shaxi' and added that he was set to employ many Shatta Movement drivers, who feel cheated on or just home unemployed.
READ ALSO: VIDEO: 17 Year Girl Impregnated By Dr UN Cries As She Finally Speaks And Talks About How He Chopped Her And Promised Her Marriage
He made this revelation in a post on Twitter saying "To all my drivers always complaining about being cheated on , don't worry, I get good news for y'all. You are about to enjoy your work as drivers. SHAXI gotcha covered , it's taking us time to get everything right. And finally we are ready  #SHAXI"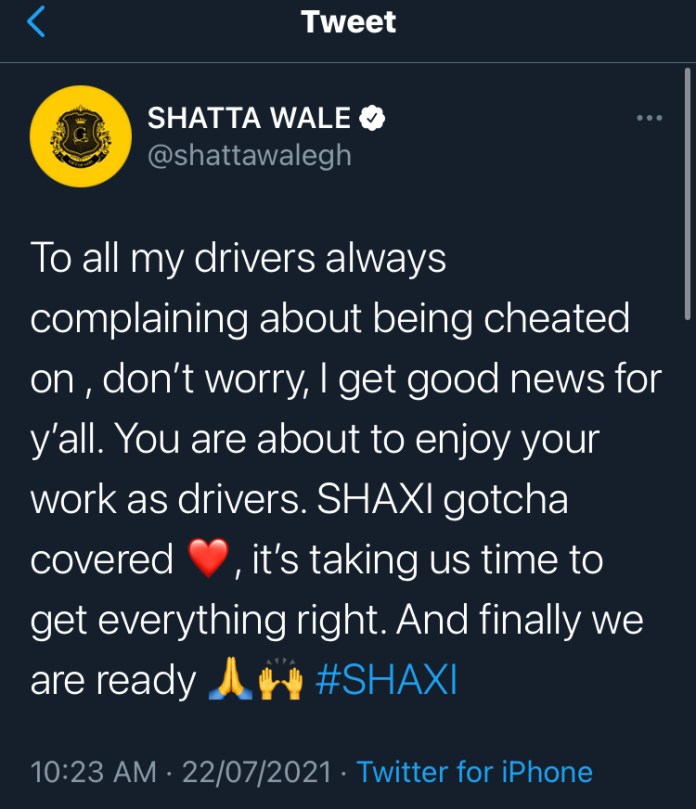 READ ALSO: Twene Jonas Busted For Living Fake Life In New York, Reveals All His Cars Are Just For Social Media Clout, Not His Own- Watch Video
As the post got many happy, his colleague in the industry, Sarkodie also showed Shatta Wale great love by endorsing this plan.
Even though it sometimes appears they are not cool, Sarkodie shared Shatta Wale's post on his Twitter timeline and endorsed it.
See the tweet below