Entertainment pundits on Peace FM's 'Entertainment Review' have not taken lightly some remarks made by the PRO of Ghana Gas, Ernest Owusu Bempah over his comments that the popular entertainers in the country supporting the FixTheCountry as 'drunkards and social misfits'.
The likes of Kofi Asamoah, Koka, Whitney Boakye-Mensah, Uncle Fred Kyei Mensah, Ashis and others took him on for spewing these insulting words in his post on social media.
READ ALSO: Efia Odo Descends On Kwadwo Sheldon For Sharing Fake Document Claiming Mahama Is Sponsoring #FixTheCountry Demo With Ghc 4.8 Million
In his post on Facebook describing the conveners of this movement as "social misfits", Owusu Bempah said the noise being generated by these 'so-called celebrities' "is akin to a drunken behaviour."
"What exactly have these celebrities fixed by themselves apart from their fake social media lifestyle and living on borrowed glory?
"Some of them can't even fend for themselves let alone fix their boring life. They go about borrowing from people to support their fakery and some are in debts and can't manage their lives and yet they are yelling at politicians?
"These guys need to fix their backward lifestyle and build something for themselves and get a life," he stated.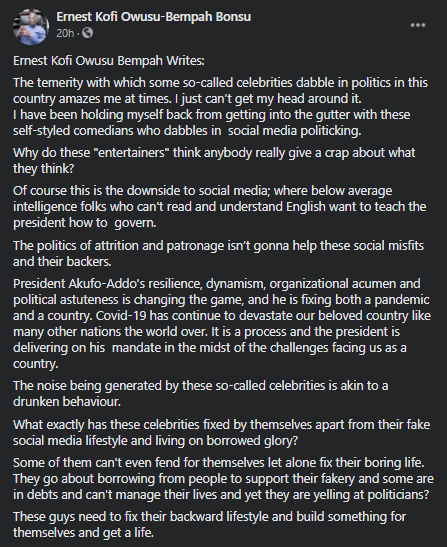 READ ALSO: Zylofon Music's Tiisha Twerks N@ked To Promote Her New Song (Video)
Well, in reaction to all these descriptions and others, all the pundits on the Thursday edition of the show called for his head and asked the president to sack him while they blasted him.
Watch the video below