Abeiku Santana Finally Reacts To Ohemaa Dadao's Warning To Him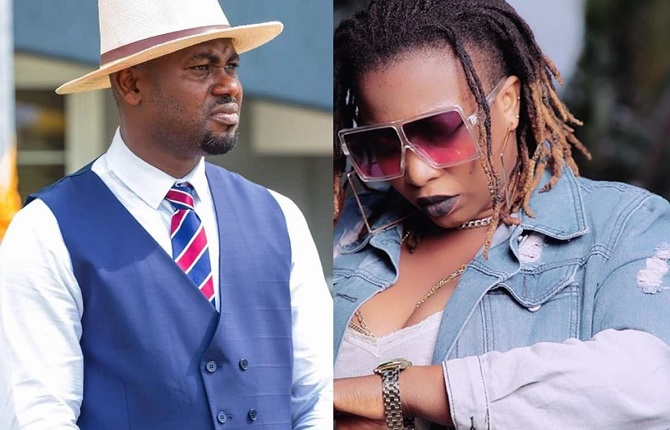 Popular Ghanaian Radio Presenter, Abeiku Santana has finally reacted to Ohemaa Dadao's outburst after he called her 'Abrewa'.
The Ghanaian female rapper became furious some months ago after the Okay FM presenter described her as an old woman 'Abrewa' in the rap game and it was not necessary for her to involve herself in the lyrical battle between Eno Barony, Freda Rhymz and Sista Efia.
Replying to his comment in an interview with ZionFelix, Ohemaa Dadao stated that Abeiku Santana exercised favouritism which is not good for the industry.
Ohemaa implored Abeiku to support those he likes without tarnishing the image of those he doesn't like.
READ ALSO: Don't Add Me To Any Of Your WhatsApp Groups, You Were Useless When We Were Even With Shatta Wale – Joint 77 To SM Fans
She emphasized that she didn't need any approval before replying to the diss songs since she felt she was jabbed in the course of the beef.
Months after her rebuttal, the host of 'Ekwansodwoodwoo' on Okay FM has reacted—but he did that on a positive note.
Interestingly, Abeiku Santana will be hosting Ohemaa Dadao on his show and after he posted a flyer of the impending interview on Instagram, a follower asked him to pack questions for the female rapper well because she blasted him during her interview with ZionFelix some months ago.
READ ALSO: Give Akufo Addo Four More Years – Actor Prince David Osei To Ghanaians
But in a quick reply, Abeiku Santana said Ohemaa Dadao aired her sentiment in a context and he is okay with that.
He added that they are each other's keeper in the same industry.
Check out Abeiku Santana's reaction below.