Beautiful Video From Kyeiwaa's American Wedding Pops Up Online (Watch)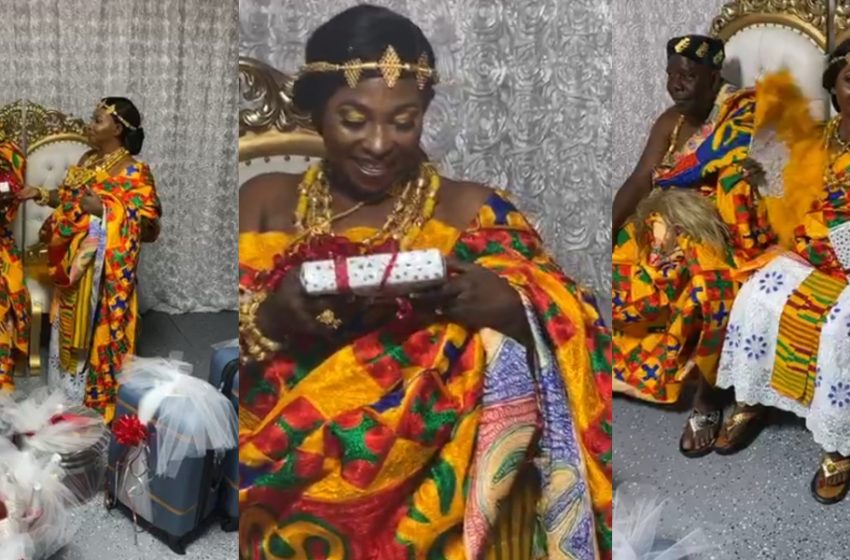 America-based Ghanaian actress Kyeiwaa has held a wedding ceremony as seen in a beautiful video that is currently trending on the internet.
The actress looked like a young lady about to start life in her beautiful and colourful kente, even though she is rumoured to be in her 60s.
READ ALSO: Reverend Obofuor Dashes Stonebwoy's "Girl" An Expensive Rolex Watch As Birthday Gift – See Photo
Kyeiwaa, clad in her kente danced gracefully with joy and excitement written all over.
Some people who commented on the video say they are inspired and happy for the actress.
WATCH VIDEO BELOW:
Kyeiwaa tied the knot with, Micheal Kissi Asare, a Ghanaian based in the United States in Worcester, Massachusetts.
Originally, scheduled for March 21, 2020, Kyeiwaa held a colourful bridal shower but the wedding had to be postponed after the outbreak of the Coronavirus pandemic in the US led to restrictions on public gatherings.
READ ALSO: I Have Not Done What Kafui Danku Thinks I Have Done – Leila Djansi Defends Herself Following Social Media Attack (See What She Said)
After the long wait, the couple is expected to walk down the aisle tomorrow and they have held a traditional wedding.
Zionfelix.net earlier published photos from the traditional wedding which have Kyeiwaa and her husband, Michael Kissi Asare, dressed in regal traditional Ghanaian kente.