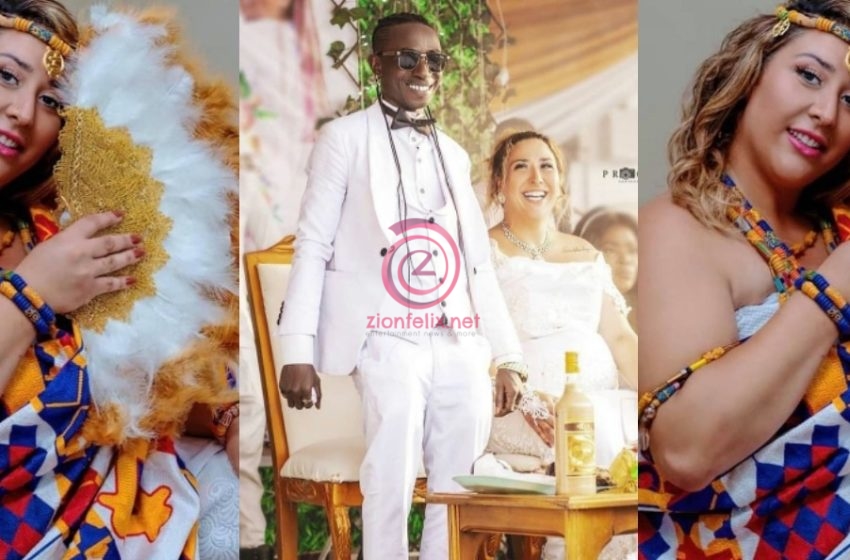 Bedroom Video From Patapaa and His Wife, Liha's Honeymoon Surfaces Online (Video)
Over the weekend, Ghanaian singer, Patapaa Amisty and his German-born obroni girlfriend, Liha Miller tied the knot to become husband and wife.
As typical of every marriage ceremony, the two love birds have been spotted on their honeymoon at an unknown location as they begin the journey of marital fun and enjoyment.
READ ALSO: A-Plus's Wife Akosua Vee Gives Birth To Bouncy Baby Boy; Drops Stunning Baby Bump Photos
In an exclusive interview, they decided to shockingly grant Adom TV's Sister Sandy earlier today, Patapaa And Liha were seen in the bedroom of the hotel they chose as the destination of their honeymoon.
In the said interview, Liha explained to the world why she chose Patapaa out of all the men in the world, among the many other things they touched on.
According to her, Patapaa is the most caring man she has ever known in this world. She adds that not only is he caring but equally romantic.
READ ALSO: TV3 Fires Nii Kpakpo Thompson As Host Of "Date Rush" Show After Four Successful Seasons
On who finally decided it was time for them to take the next bold step in their relationship, Liha revealed it was Patapaa who asked her to marry him, she said yes but because of Covid-19 and its troubles, she left the planning of the marriage to Patapaa and his family.
Liha says she would leave for Germany soon because of work.
Check out the video below