Rapper, Kwaw Kese is currently being roasted on Twitter over his comments about the trending Meek Mill Jubilee House brouhaha.
A few hours ago, Meek Mill shared a short video of a yet-to-be fully premiered production he did in the Jubilee house.
READ ALSO: Ghanaians React In Shock As Meek Mill's Video Allegedly Shot At The Jubilee House Surfaces Online
In the now-deleted video, Meek Mill is seen at different places at the presidency, from the frontage, through to the main corridors, in the main conference hall, where he is seen behind the presidential lectern, and later in a sitting area rapping.
After the video went viral on the local digital space, Ghanaian social media users angrily expressed their displeasure at the American rapper for breaching protocol at the jubilee house.
As a lot of Ghanaians are sharing their opinions on the various social media platforms about the trending issue – Kwaw Kesse has also taken to his Twitter timeline to openly share his thoughts about the whole issue.
According to Kwaw Kese, there's no way a Ghanaian will be granted access to the places Meek Mill was allowed to film himself alongside his crew.
He lamented over the fact that we the people in our country treated like outcasts while foreigners are given premium forms of treatment like the Sultan Of Brunei.
READ ALSO: They must all be fired – Angry Okudzeto Ablakwa fumes at the workers at the Jubilee House who allowed Meek Mill to shoot a video using the president's podium
This harmless tweet from Kwaw Kese has elicited several negative comments and attacks on the rappers.
According to some trolls, he should focus on his weed lifestyle and leave issues like this for mentally stable people to deliberate on
Take a look at the screenshot below to know more…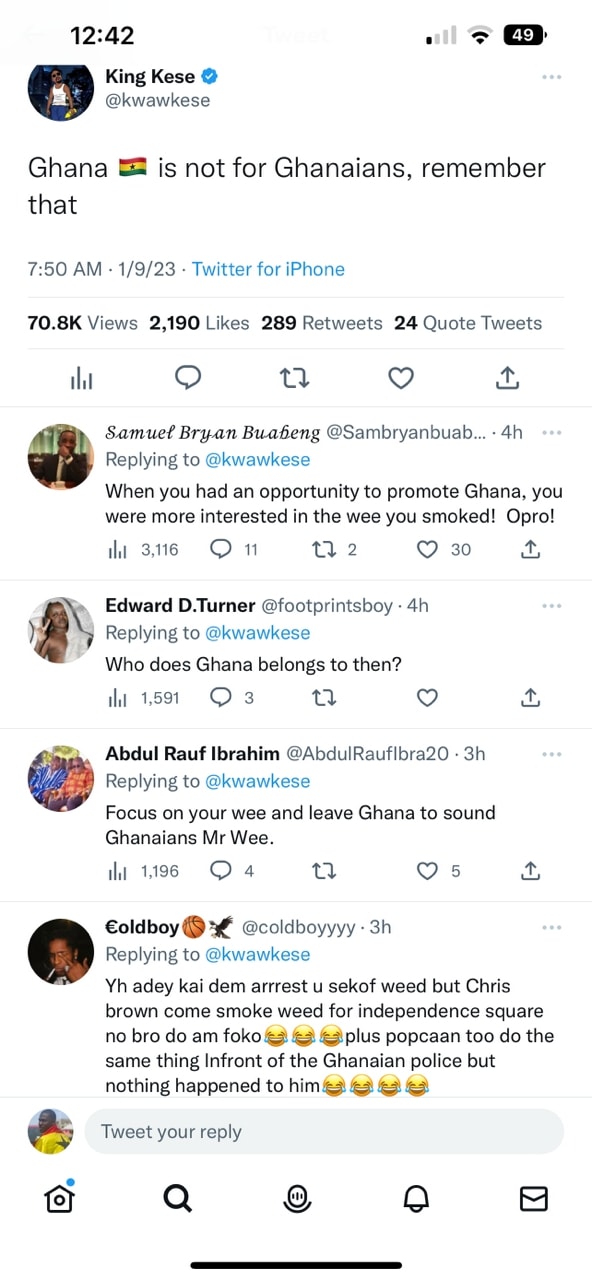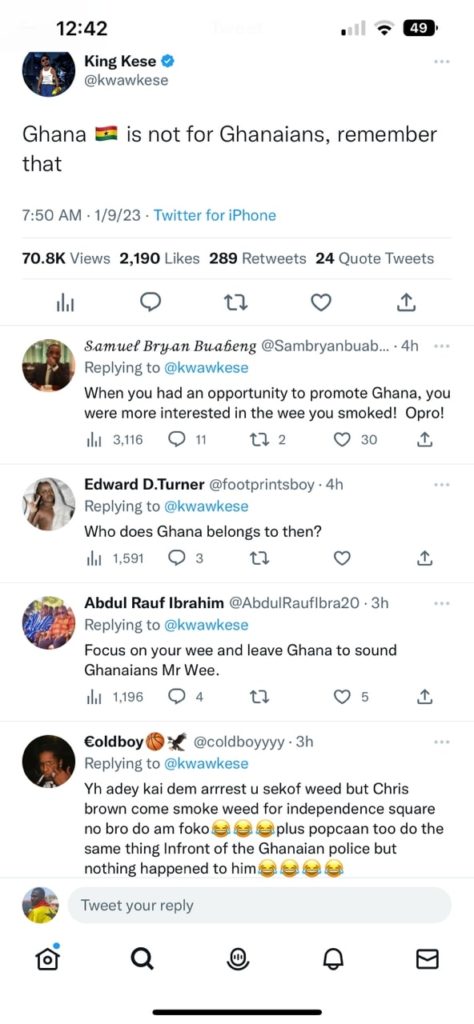 Meanwhile, an official statement is yet to be released by the office of the present to address the pressing issue which has since become a national topic.
READ ALSO: Meek Mill Quickly Deletes His Video Shot At Ghana's Jubilee House Following Social Media Backlash