Following the uproar by Ghanaians on social media, Meek Mill has deleted the video he shot at Ghana's Jubilee House when he visited the country.
The American rapper in the late hours of Sunday, January 8, 2023, got a majority of Ghanaian social media users infuriated when he shared a snippet of a freestyle video he shot at Ghana's seat of government on his Instagram reels.
READ ALSO: Angry Group Cause Commotion At Di Asa Season Six Final Following Eviction Of Their Contestant – Watch Videos
The snippet, which was about 46 seconds long, was shared with the caption: "NOT INDUSTRY POWERED" we make the narrative GHANAAAAAAA🇬🇭🇬🇭🇬🇭 I felt like a king there!! "All real footage" "power rap"@nick_papz @fridayy at the "presidential villa"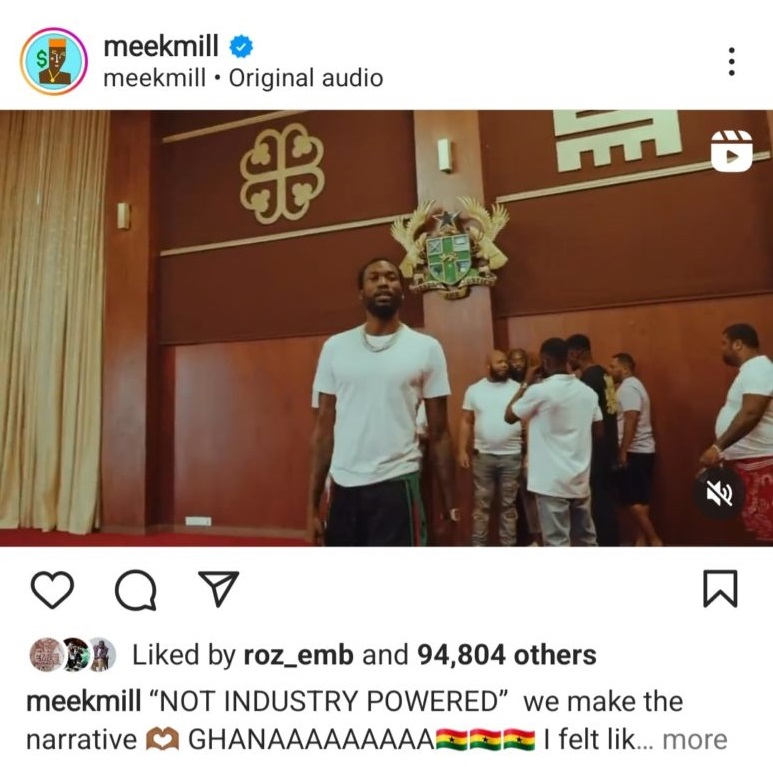 Most of the people who shared an opinion on the video questioned how he was given the authorization to do such a thing when the Jubilee House is known to be a security zone, where pictures cannot even be taken.
READ ALSO: Ghanaians React In Shock As Meek Mill's Video Allegedly Shot At The Jubilee House Surfaces Online
Others have questioned whether this means that any Ghanaian musician can now pick up his or her camera and head to the Jubilee House for a video shoot because the floodgates appear to have been opened.
Well, as things stand now, the office of the president has not reacted to all these backlash and questions yet, however, the decision by Meek Mill to delete the video is one that a section of social media users believe is the best thing to do.
READ ALSO: Zionfelix's Mom Cries As He Gifts His Parents Four-bedroom House And Car – Watch Video
The American rapper was in Ghana in December 2022 for the Afro Nation music concert, where he mounted the stage on December 29 and entertained the numerous people who gathered at the event grounds.