Funny Video Of Akrobeto Presenting News With 57-Year-Old BECE Graduate Elizabeth Yamoah Pops Up (Watch)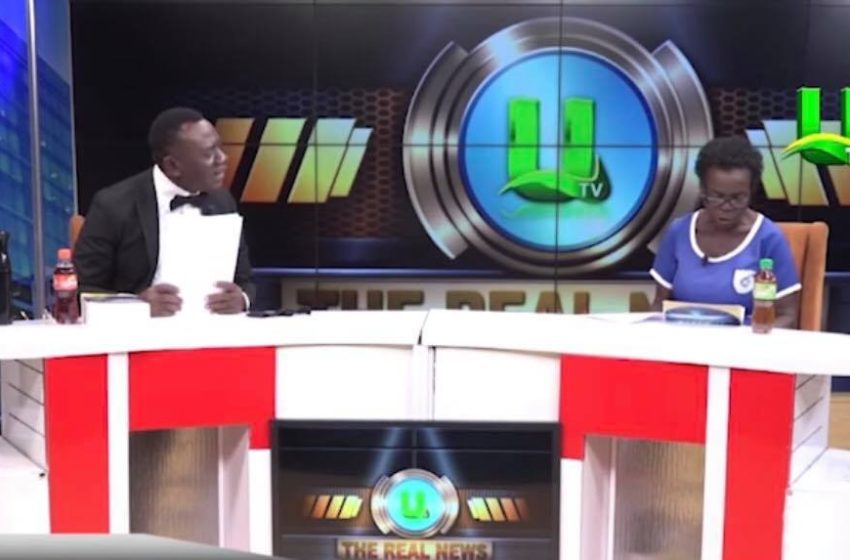 Comic actor, Akrobeto, known in real life as Akwasi Boadi, has featured Elizabeth Yamoah, the 57-year-old woman recently completed Junior High School (JHS) on his Real News show.
In a video sighted by Zionfelix.net, Akrobeto is seen dressed in the usual suit and tie for the show while Yamoah is in her JHS school uniform.
READ ALSO: Naa Ashorkor Hosts Celebrity Trainer And Challenges Him To A Push-Up Competition In Video (Watch Who Won)
Wearing a pair of glasses, Madam Elizabeth Yamoah set out to read one of the news items for the day which was about the Electoral Commission's filing fees for the 2020 elections.
Not long after starting the first sentence, Yamoah got to the point where she had to pronounce the word 'parliamentary'.
Elizabeth Yamoah's pronunciation did not go down well with Akrobeto who stepped in to correct the BECE graduate.
WATCH VIDEO BELOW:
After Akrobeto made her say the word after him, Yamoah got it and pointed out that she was finding it difficult to pronounce it because she has lost some of her teeth.
Akrobeto told Yamoah not to worry and asked her to continue with the reading. When she finished reading, Akrobeto asked Yamoah if she could explain what she had read but she "I can't please."
Yamoah completed JHS as part of the 2020 batch who wrote their final Basic Education Certificate Examination (BECE) paper on September 18, 2020.
Yamoah who attended school Agona Odoben Presby JHS was spotted having fun with some of her classmates after their exams.
READ ALSO: You Will Surely Preach The Word Of God – Gospel Singer Amy Newman Prophecies Upon Fameye In New Video (Watch)
Following the photos which went viral on the internet, Yamoah has become a social media sensation as her tenacity and resolve to go to school even at her age impressed Ghanaians.
Since that time, she has become a media darling featuring in many radio and television interviews.