I Did Opambour Nothing For Him To Curse Me – Actress Bernice Asare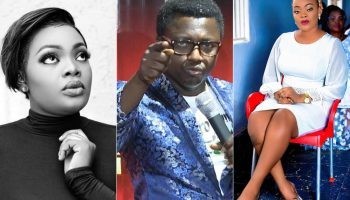 Ghanaian actress, Bernice Asare has broken her silence on reports that she has been cursed by Rev Ebenezer Adarkwa Yiadom aka Prophet One (Opambour).
She revealed what triggered Opambour's curse in a new interview with ZionFelix on the 'Uncut' Show.
The popular actress recalled it all started after she hosted someone who has worked with Opambour on Agyapa TV in Kumasi.
READ ALSO: Ayisha Modi Reechoes Her Love For Stonebwoy And His Wife As They Mark Their 4th Marriage Anniversary
According to her, the person made demeaning allegations against the renowned Prophet.
Bernice said she was unaware of what the person was even coming to say on the program she hosted.
She explained that she asked the person just two questions when he was spilling his allegation.
The actress/TV host recounted questioning if the Ex-Opambour worker would have made such claims if they are close like they used to be.
READ ALSO: Court Fines Nana Agradaa GHS 36, 000
She added that he was the first person that needs to be arrested if what he said was true.
Following this, Bernice Asare said Opambour cursed her.
She disclosed how sad she was after the curse from the popular Prophet, adding that she does not know what she did wrong.
Watch her explanation in the interview below.