Media General, the employers of popular Ghanaian broadcast journalist, Captain Smart have released a strong-worded statement calling out the Ghana Police Service following the release of the tough-speaking journalist from the custody of the police.
Captain Smart was invited by officers from the National Investigations Bureau (NIB) in his home at 11:00 am on Thursday after which he was subsequently taken to the Nima Police Station in Accra for interrogation.
READ ALSO: 'Where Did The Hips Come From' – Netizens Ask Hilariously Questions As Old Photo Of Serwaa Amihere And Beautiful Sister, Maame Hits Online
According to a release from the Ghana Police Service this arrest was because of some unsavoury pronouncements Captain Smart was alleged to have on live TV which hinged on the peace and security of the country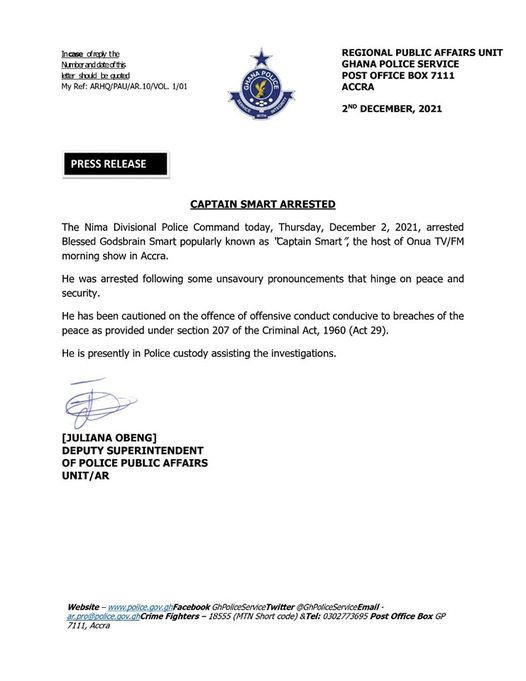 READ ALSO: Okesse 1 And Medikal "Trade Blows" On Snapchat? (+ Screenshots)
However, Media General in a reaction to all this says that they believe is an increasing crackdown on tolerance through the use of state power against journalists.
A statement issued by the company on Thursday, December 2 said this recent trend has affected journalists who work with Media General and simply doing their work and, like every Ghanaian, should be protected by the Constitution.
They added that: "Today's arrest and detention of Captain Smart is by no means an isolated incident, but just one more egregious example of the intolerance increasingly creeping into the Ghanaian society. We are convinced that a careful review of the entire statement made by Captain Smart would reveal that it did not amount to threats to the peace and or stability of the country as claimed by the Ghana Police."
Kindly read the rest of the statement below