My Future Ambition Is To Become A Nurse – 57-Year-Old BECE Graduate Madam Elizabeth Yamoah Speaks (Video)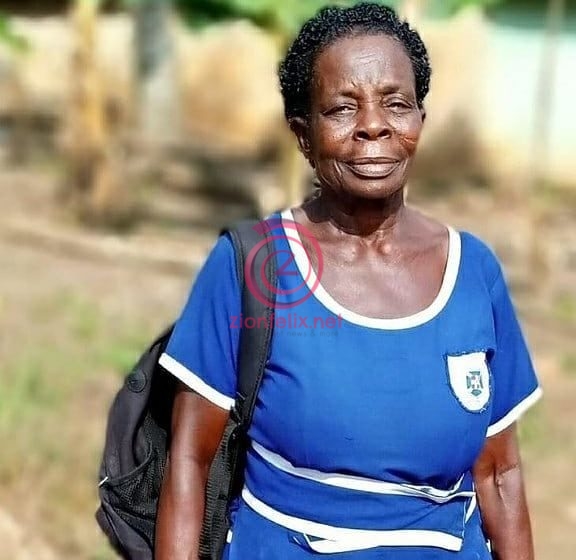 Ghana's current graduate of the moment, 57-year-old Madam Elizabeth Yamoah, has opened up about her future ambitions and has stated that she wants to become a nurse.
While speaking in a radio interview with award-winning radio personality, Abeiku Santana, Madam Elizabeth Yamoah revealed that she had high hopes of seeing her ambitions through.
READ ALSO: Too Much Money: Ypee Purchases Another Expensive Benz As He Flaunts It In Photos (See Model)
While speaking on her ambitions, she revealed that even though she is currently a farmer and trader, she has nursing on her checklist and would want to see herself in the healthcare delivery field sooner than later.
Madam Elizabeth Yamoah, 57, was adjudged the oldest Basic Education Certificate Examination for the year 2020 and she was part of over 531,000 candidates who sat for this year's national exam.
Among many other things, Madam Yamoah was asked some hard-hitting questions by Abeiku Santana which she managed to answer.
WATCH VIDEO BELOW:
However, some questions like who are her mentors and what here hobbies were, appeared quite hard for her to comprehend and she had to struggle to answer.
According to Madam Yamoah, the person who motivated her the most was her headteacher who was also on the radio show.
On the question of her hobbies, Madam Elizabeth Yamoah only gave her answer as "Pentecost" – probably because she did not understand the word being used.
READ ALSO: You Will Surely Preach The Word Of God – Gospel Singer Amy Newman Prophecies Upon Fameye In New Video (Watch)
Prior to this, she had managed to answer some arithmetic questions that were posed to her by Abeiku Santana who had turned himself into some sort of a quiz master.