The Twitter lady, Akua Saucy who has been trending on the internet in the last few days because of her viral n*de photos and videos which were released online by one dude called @Kwaby_Skrilla, who claims to have bought each one for Ghc50 has threatened revenge.
After Akua Saucy earlier today broke her silence on the matter and disclosed how heartbroken she is, she has taken to Twitter again to threaten the guy who disgraced her.
READ ALSO: Watch Video Of The Moment DKB Nearly Walked Out Of UTV's United Show Because Halifax Said He Has 'Big Head With Small Sense'
With her n*des on the phones and the devices of many people currently, Akua Saucy has also threatened to drop that of the guy as payback.
Apparently, while the guy was paying to get her, she was getting that of the guy for free and a bonus for the cr@zy photos and videos she was sending him.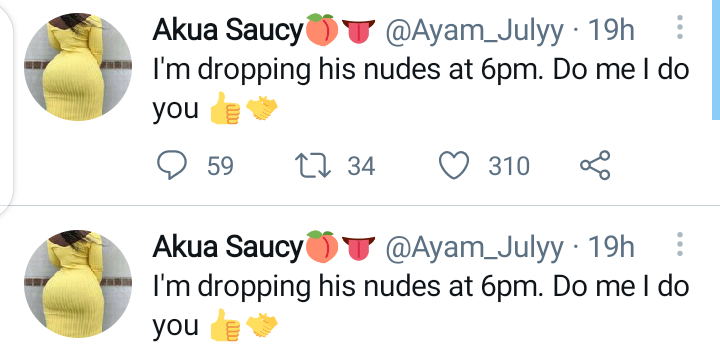 So as it stands, a lot of social media users are waiting for her to carry out her threat, even though I doubt that of the guy will have the same impact.