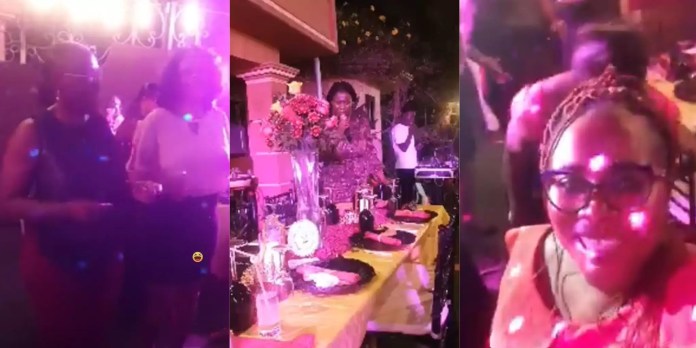 Video Of Plush Party Of Some Top NDC Members In Accra While Party Foot-soldiers Clash With Police Over Election Result Surface Online (Video)
It turns out that while some supporters of the major opposition political party in Ghana, NDC were busily fighting with the police and military at the EC's headquarters over the declared presidential election results some of the top executives were happily chilling elsewhere.
This information and some videos came to light after one Facebook user, Dukor Mevi, who claims to be a sympathizer of the political party took to his page to ask the party followers to wise up.
READ ALSO: Video Of Cr@zy Accra Ashawo Mercilessly Dealing With A Hard Guy Who Ch0pped Her And Refused To Pay Because He Didn't Cum Goes Viral
In his post sighted by zionfelix.net, he mentioned the live video captured on the Facebook of one Princess Law, from the birthday party thrown for a former Chief Executive Officer (CEO) of the Microfinance & Small Loans Centre (MASLOC), Sedina Tamakloe-Attionu as enough reason why the party's supporters must sit up and learn some sense.
Dukor Mevi in his post wrote: "While we were on the streets yesterday receiving beatings with some of our ple shot n others arrested, Sedinam Tamakloe organized birthday bash. Marrietta n some female appointees were in attendance. Annoying part is Princess Law law was doing live video with it The stupid aspect of is that, those who will benefit the most are sitting at home enjoying while we are risking our lives on the street"
See the post and videos below