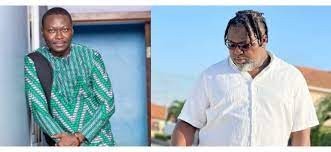 You Were Disrespectful And That's It, Nothing More – Hammer Replies To Arnold's Subliminal Shots
Popular Ghanaian music producer, Hammer has reacted to Arnold Asamoah-Baidoo's subliminal shots.
After Hammer's comment on his issue with Shatta Wale, Arnold said he would clap for him if he was his peer.
Though the entertainment pundit tried not to hit hard at him, he subtly jabbed him.
READ ALSO: Arnold Throws Subliminal Shots At Hammer
Reacting to this in a post-Zionfelix.net has seen, Hammer stressed that Arnold was disrespectful with his comment.
He wrote: "Look am, Arnold wan handle me with subliminal shots. Lol
Why do writers have this perception say brains be English grammar.. if ibi so like we dey wayyy ahead of the Chinese massa.
"Like by now ibi u sef dey pay UTV… U no go need the tnt or per diem sef. Massa don't throw lame shots at me… I move different. I been around, I saw u grow.. regardless I still respect your person cos u earned it… This isn't personal."