Slowly, Blakk Rasta is making a lot of enemies for himself and destroying the hard-earned reputation he has in the entertainment industry.
It's clear the Reggae musician has never had a proper sleep ever since Sarkodie's collabo with Bob Marley got released.
READ ALSO: Blakk Rasta's rants about Sarkodie's feature on Bob Marley's 'Stir It Up' is very unnecessary – Kwabena Kwabena states
The radio prester has been ranting on the internet for about a week now all because he strongly believes Sarkodie was used as a desecration for Bob Marley's sublime legacy.
His Twitter timeline is filled with vile comments about Sarkodie and Bob Marley's management who orchestrated the feature.
As we all know, Sarkodie has a cult following and as a result of that, millions of his fans on social media have also fired back at Blakk Rasta and described him as 'skin pain'.
Revered Ghanaian journalist, Nana Aba Anamoah has also taken a deep swipe at Blakk Rasta for his unnecessary comments fueled by jealousy.
Reacting to one of Blakk Rasta's attacks on Bob Marley's management, Nana Aba Anamoah didn't mince words to tell the musician to shut up because she doesn't know better than the team behind the feature.
She further added that Sarkodie was featured ahead of him because obviously, he's better than him (Blakk Rasta).
Blakk Rasta reacted to Nana Aba's counter-attack by stressing that he was telling the truth and he would like to have a discussion with her on live radio.
Read the screenshots below to know more…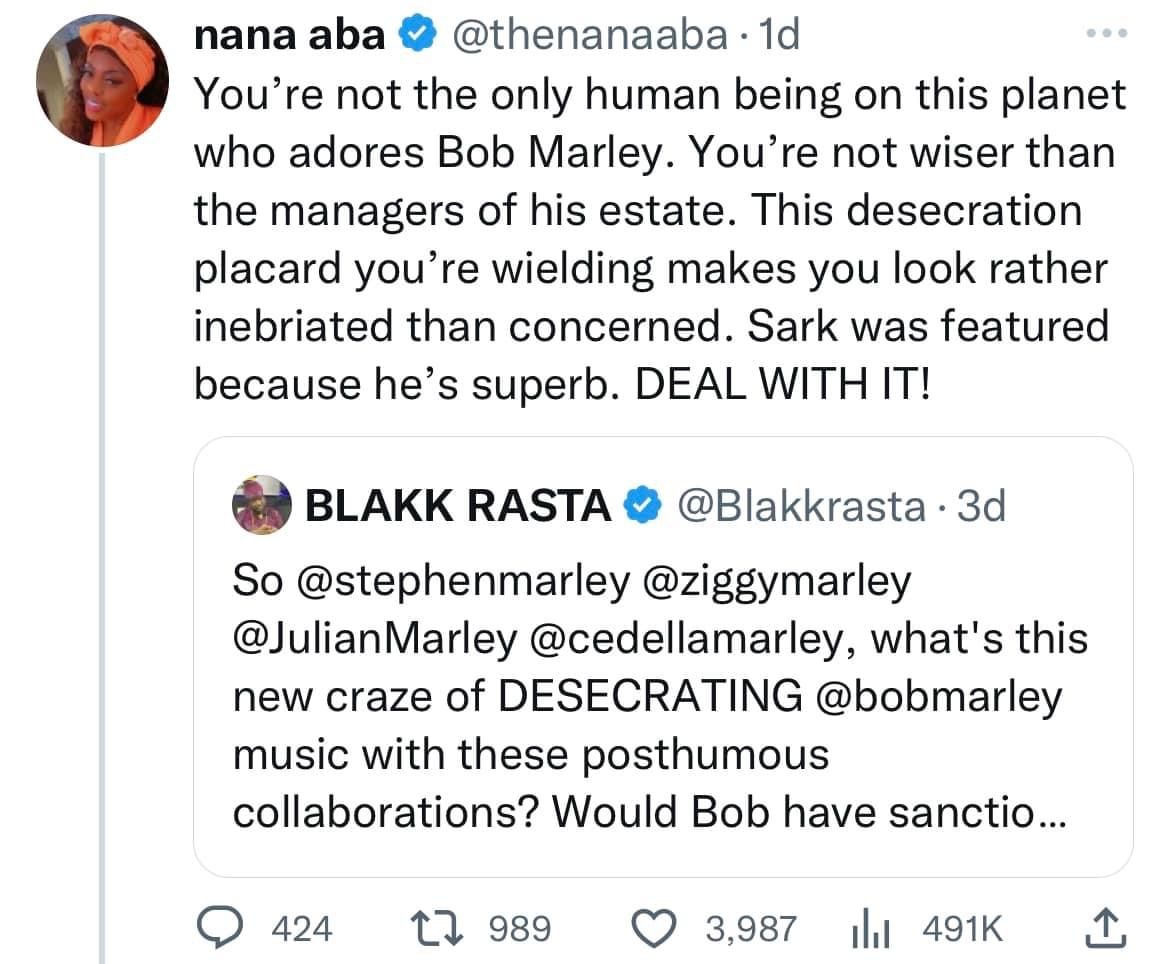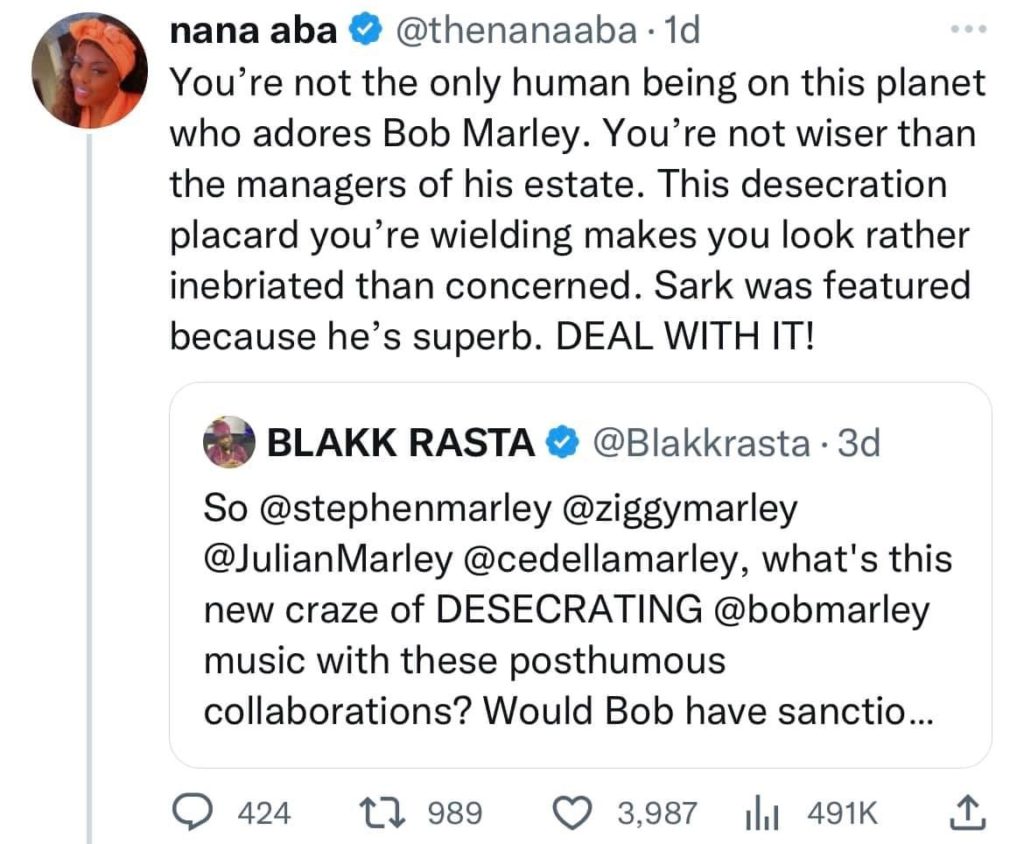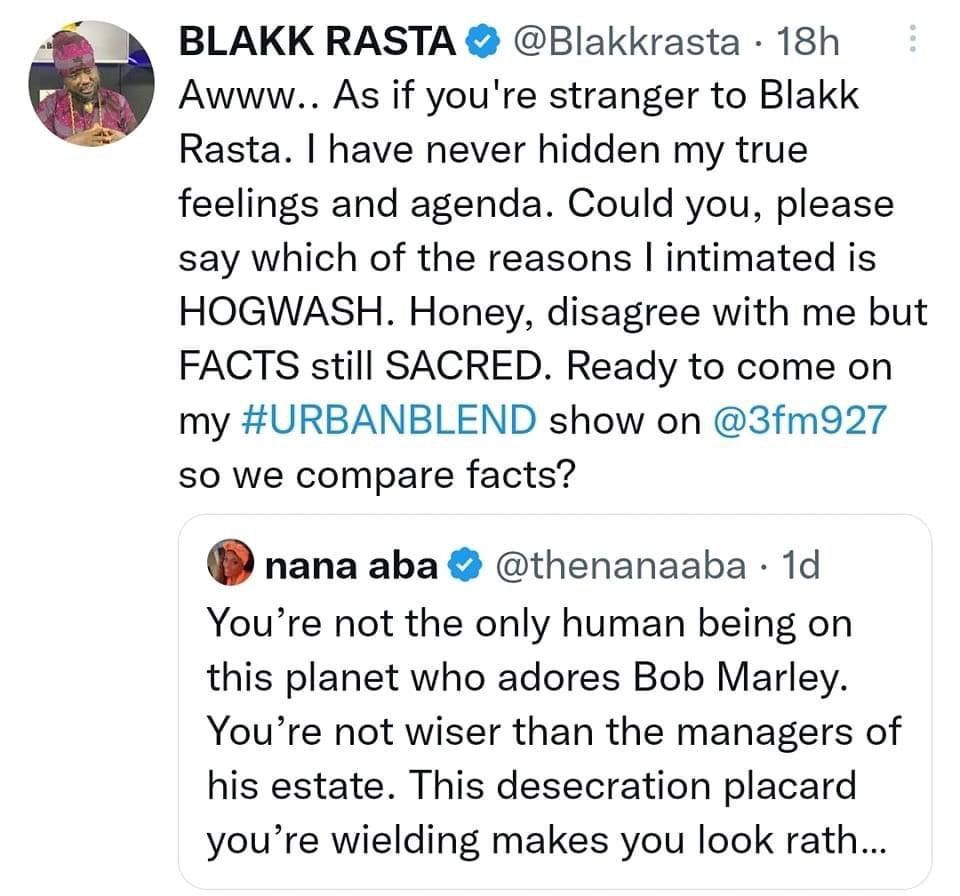 READ ALSO: If there's Hell on Earth then Ghana is the place – Bulldog laments