One netizen has decided to say a lot of things to put a dent on the reputation of award-winning presenter, Deloris Frimpong Manso, popularly called Delay.
The guy, who uses the social media name Nana AfricanBoi Oduro under a post of Delay said that she is suffering despite how bubbly she looks on social media all the time because some 'unknown' people have decided that they won't allow her to give birth.
READ ALSO: See Beautiful And Innocent Photos Of Twitter Girl, Akua Saucy, Whose N*du Videos & Photos Were Leaked Online
This same guy, who appears to be one of the ghost Facebook users also alleged that a time will come when the newborn babies at hospitals will disappear because they will be sold to Delay since she can't give birth.
He ended by also claiming that Delay will travel for a year when this happens and return with the baby which was stolen for her.
READ ALSO: Watch Video Of The Moment Akuapem Poloo Was Finally Allowed To Go Home After Fulfilling Bail Conditions
Well, this may appear very disrespectful and defaming, to say the least, it appears Delay has decided to not give the guy any of her time as she decided to laugh it off by sharing the screenshot on her various social media platforms.
She added the caption: "Facebook drama 🤡" to it.
See the post below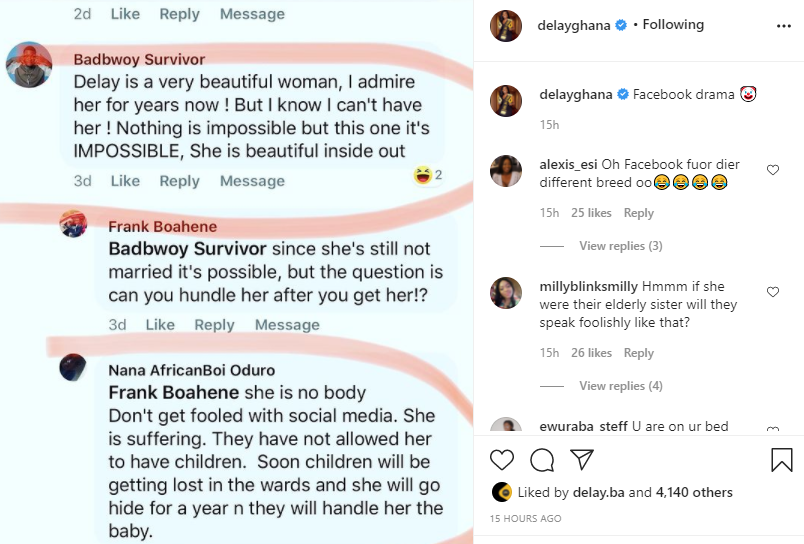 "