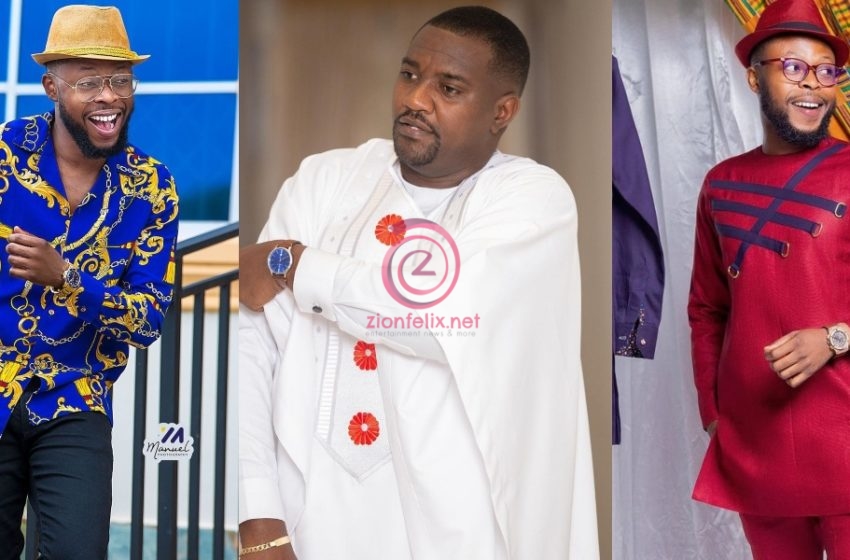 "Gyimifou!!! Pray Hard Your Party Retains Power" – Ghanaians Jab Kalybos For Teasing John Dumelo And Asking Him To Vote For NPP In Viral Video (See Reactions)
Some social media users have taken comedian Richard Asante popularly known as Kalybos to the cleaners for campaigning for NPP against his colleague John Dumelo.
Kalybos, yesterday, declared support for NPP and Ayawaso West Wuogon MP Lydia Alhassan which happens to be the same constituency that John Dumelo is standing in on the ticket of the NDC.
READ ALSO: Ghanaian Female Dancehall Scene Is Not Vibrant – Prhincex
In a video sighted by Zionfelix.net and has since gone viral, Kalybos was seen advicing John Dumelo and John Mahama to vote for the NDC.
The actor went on to hand over campaign fliers of Dumelo and Mahama and asked them to vote for the NPP.
This viral video has however sparked a widespread outcry from some social media users who have blasted Kalybos.
One fan wrote: "Waaa look!! This is not funny… Why make mockery of someone you are not in support of ?? You people should grow up!! 🤣😂 Maa Lydia b3 wee falaaaa🤣🤣 John Dumelo afa aba no ooo 💯 Hon. John Dumelo all the way"
Another fan said: "Not everything is because of money. The way some Ghanaians think ugh😒. What happened to freedom of association! 4 more 4 NAna period!!"
READ ALSO: James Gardiner Writes An Emotional Letter To John Dumelo Ahead Of December 7 Election – Read

"I hate to do politics buh I jxt wish John Dumelo wins….," was another fan's comment.
Another fan said: "Gyimifou!!! Pray hard ur party retains power"